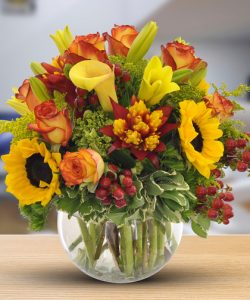 Creating the right mood for your holiday celebrations often involves just the right table setting, light, and music. Flowers are a great way to add to the ambiance of the Thanksgiving feast, complementing your serving ware, decor, and food. We have a large Thanksgiving collection that lets you create a special touch for this holiday season with arrangements, centerpieces, and accent decor.
Even though Thanksgiving is less than a week away, there is still time to order Thanksgiving flowers from our Memphis flower shop by phone, in our store, or through our website:
AUTUMN THOUGHTS
This is a great flower arrangement to send as a gift to someone that can't make it to the Thanksgiving celebration or to send if you are the one who can't make it. This floral display is also a great idea to give to a Thanksgiving host. It's a mix of fall flowers in just the right size.
SENSATIONAL SUNSET
This is a colorful flower arrangement that can also work as a Thanksgiving centerpiece for a smaller celebration. There is a mix of fall flowers, accents, and foliage that provide texture, warmth, and ambiance to your feast.
COUNTRY PUMPKIN
This arrangement includes a keepsake ceramic pumpkin that you can use to decorate for years to come. It is filled with fall flowers and foliage, also making it a great centerpiece or decor for the foyer to welcome guests.  i
FALL FANTASY
The flower arrangement is tall and offers a bounteous garden-style arrangement of fall flowers, foliage, and accent within a glass vase. 
FALL MUM PLANT
This flowering plant is a nice alternative to the traditional flower arrangement. It is low maintenance and offers a long life to enjoy it. This is a bronze cushion mum plant that comes with a miniature pumpkin. It is placed in a wicker basket that has been tied with a bow.
FALL MIXED BASKET
This fall colored mixed basket also makes for a great gift to bring with you to a Thanksgiving feast.  No two baskets are alike because our floral design team uses what is available in terms of fall flowers and color choices.
Happy Thanksgiving!
We wish all of our customers a very happy Thanksgiving and are so grateful each and every one of you! 
Be sure to check our Memphis flower shop out on Black Friday and Small Business Saturday as well as our website and social media profiles on Cyber Monday. We are already prepared to launch our holiday collection and can't wait to share it with you!