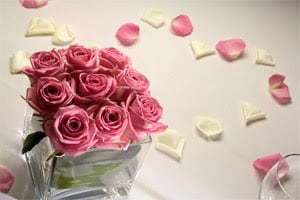 Red
Love, Beauty, Courage and Respect, Romantic Love, Congratulations, "I Love You", "Job Well Done", Sincere Love, Respect, Courage & Passion

Same day delivery!


Red (Dark)
Unconscious beauty
Red (Single)
"I Love You"
Deep Burgundy
Unconscious Beauty
White
Purity, Innocence, Silence, Secrecy, Reverence, Humility, Youthfulness, "I am worthy of you", Heavenly
White (Bridal)
Happy love
Pink
Appreciation, "Thank you", Grace, Perfect Happiness, Admiration, Gentleness, "Please Believe Me"
Dark Pink
Appreciation, Gratitude, "Thank You"
Light Pink
Admiration, Sympathy, Gentleness, Grace, Gladness, Joy, Sweetness
Yellow
Joy, Gladness, Friendship, Delight, Promise of a new beginning, Welcome Back, Remember Me, Jealousy, "I care"
Yellow with Red Tip
Friendship, Falling in Love
Orange
Desire, Enthusiasm
Red and White
Given together, these signify unity
Red and Yellow
Jovial and Happy Feelings
Peach
Appreciation, Closing the deal, Let's get together, Sincerity, Gratitude
Pale Peach
Modesty
Coral
Desire
Lavender
Love at first sight, Enchantment
Orange
Enthusiasm, Desire, Fascination
Black *
Death, Farewell
Blue *
The unattainable, the impossible
Single in any color
Simplicity, Gratitude
Red Rosebud
Symbolic of purity and loveliness
White Rosebud
Symbolic of girlhood
Thornless Rose
"Love at first sight"


Week three's flower is the rose. The rose is probably the most widely used flower to help people express their feelings. It's beautiful, sturdy, long lasting and has great history. They are fairly easy to grow at home. There are so many varieties that it's hard to list or even find out about them all. Memphis is a great climate for growing the climbing rose and they are hearty and thriving this time of the year. Got any great new ideas for rose uses? Email them to debbie@pughs.com and I will post them here.