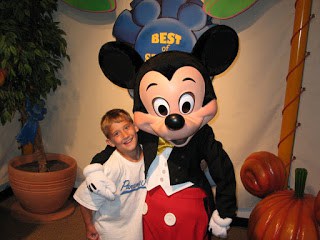 Hunter at Disneyworld!
Pugh's Flowers and the Dream Factory of Memphis have an ongoing partnership. Order anything from their special page on our site and $5 goes directly back to them, it's that easy. Check out what's available here.
Dream Factory Mission Statement
The Dream Factory grants dreams to children diagnosed with critical or chronic illnesses who are 3 through 18 years of age.
Dream Criteria
In order for a child to be considered eligible to receive a dream, he or she must meet the following criteria:
Is 3 through 18 years of age.

Has a critical or chronic illness which must be verified on the application by the child's primary physician.

Has not received a dream from another wish-granting organization.

The dream must be the child's dream and not that of a parent, guardian or other concerned party. The child must be able to communicate the dream to a Dream Factory representative.


History & Background
The Dream Factory of Memphis is a non profit, 100% volunteer organization dedicated to granting the Dreams of critically and chronically ill children ages of three through eighteen. The Dream Factory grants dreams without regard to race, color, creed, religion, ethnic origin, sexual orientation or economic status.
Stephen Douglas founded the Dream Factory of Memphis in the summer of 1985. While organizing the Memphis Chapter he was fighting his own personal battle with Hodgkin's disease. Although Steve died shortly after the Dream Factory became a reality, his legacy has been perpetuated by a dedicated group of volunteers that continues to make Steve's dream come true.
Since its inception, The Dream Factory of Memphis has granted nearly 450 dreams to children throughout the Mid-South and from countries as far away as Chile. The average dream costs approximately $3,500, which has included computers, a new puppy, meeting a sports/music/television celebrity, entertainment centers, etc. Our single most popular dream is a family trip to Disney World in Orlando, Florida to meet Mickey Mouse.
The Dream Factory of Memphis is funded through private donations from individuals and corporations, along with fund raising events sponsored by local civic organizations to benefit the Dream Factory or by the Memphis Chapter itself. Approximately 92 cents out of every net dollar is used for granting dreams. The remaining 8% is used for general and administrative cost and national dues to fund our Headquarters in Louisville, KY