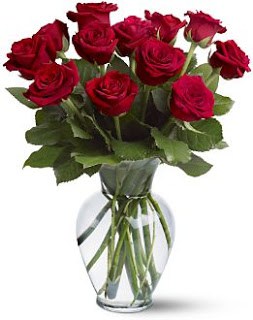 It's June 1st! This is the first day of National Rose Month. The month of June is National Rose Month…
Here are some great ideas for celebrating this Month…
1. Add a new colored rose to your garden. Pick a color that you have never grown before.
2. Show your children or your grandchildren how to plant and care for roses in the garden. This will make them happy while you get help working on your garden.
3. Host a Rose garden party. Invite everyone you know who loves roses!
4. Visit a public Rose Garden. The different colors and scents will make anyone smile.
5. Share photos of your roses with loved ones. Take pride in how beautiful they are.
6. Create a coffee table book out of pictures of your favorite roses. You can make this as a gift to loved ones or just for yourself.
7. Gift roses to numerous people this month. Send them to loved ones, people who make a difference in your life, friends and anyone who needs a little beauty in their life.
8. Buy a bouquet of roses for yourself. You deserve them!!
Here is a little Rose trivia to celebrate this month.
1. Since 1986 the rose has been the official National Floral emblem of the United States.
2. The rose is the official State Flower of The District of Columbia, Georgia, Iowa, New York, and North Dakota.
3. George Washington was the first rose breeder of the United States.
4. Roses are a native plant to the United states.
5. Roses are big business. 1.2 billion sold every year.
6. 60% of roses grown in the United States are produced in California.
When ordering roses for loved ones and friends think about the person and your relationship with them. Here are the colors that are available and their meanings.
Red roses signify love and respect. They can also mean desire and lust.
Deep pink roses signify gratitude and appreciation. Light pink mean admiration and sympathy.
White roses stand for innocence, humility, and reverence. They also signify death and are the symbol for virginity.
Yellow roses stand for joy, gladness and friendship.
Orange roses signify enthusiasm and desire.
Purple roses mean enchantment.
Other rose gift ideas include the tea rose which means " I'll remember always."
A single rose in full bloom means "I love you" or "I still love you." A thorn less rose signifies
Love at first sight!
Rose petals are another thoughtful and romantic way to celebrate Rose month. Surprise your loved one with a trail of colored rose petals leading to a romantic meal or bath…
If you want a longer lasting gift send a rose bush or plant a rose bush in your yard. This will give the gift of beauty and fill the air with the sweet scent of roses almost all year round!
So remember that June is National rose month and the best way to celebrate roses is to send them to everyone you love!!
Pugh's Flowers in Memphis is having a sale to correspond with National Rose month. Our red roses are discounted to only $39.95 and our premium red roses, with Stargazer Lilies, is only $59.95. Now is the perfect time to surprise someone with the beauty of roses! Click here to place your order today.