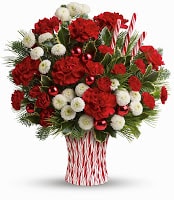 Do you feel intimidated when your neighbors start their "Griswold" worthy Christmas lighting and displays the day after Halloween? Do you join the masses or do you look for new ideas to keep the season festive but manageable?
Here are some easy tips to create beautiful focal areas in your home for the holiday season. Focusing on high impact areas such as your mantle, kitchen, dining room and front porch entry will keep you and your guests in the holiday spirit!
Create a highly visible and welcoming entry to your home by tripling up the wreaths on your door. Connect them all with holiday ribbon, add jingle bells for a more festive feel. Re-purpose your garden urns by filling lanterns with white lights and snuggle them with garland or wreaths in your pots for a new twist on porch decor.
The staircase is another area to focus on to create a warm, welcoming point in your home. Garlands are a wonderful way to dress it up. However, you don't need to fuss with yards of ribbon, consider other alternatives. Keep it simple by adding a few neutral stockings, minimal burlap ribbon (if any), and consider playing up the steps with seasonal phrases hi-lighted with candles.
Allow your fireplace to become a holiday hi-light as well. Incorporate decor items that you have in your home and dress them up for the holiday. Start with a simple garland, add tall decorative vases that you have on hand, fill with branches, pine, feathers, etc. I like to take the cuttings from the bottom of my tree and place them in my mantle vases. Stack a few hard cover books for interest or height, add stockings, candles or other holiday trim.
The kitchen is the heart of the home and regardless of the size, you know that family and friends are going to gather there, no matter how hard you try to shoo them out. Add a few holiday touches, the goal here is not to add clutter! Hang a lightweight wreath or two to your kitchen window, adding holiday charm without taking up valuable counter space.
We can't forget the Dining Room, where your family and friends will gather to enjoy your signature dishes. Keep your table trimmed all season with this easy idea, that looks complete whether the room is in use or not. Run a garland down the length of you table, add lanterns, pillar candles and pine cones. For a more glamorous option, use glass hurricanes and colorful ornaments.
A few last tips to keep the holiday decorating stress at bay. With today's open floor plans, remember to carry the theme of your decor throughout your home to create a flowing holiday design.
Keep it simple and easy. Overdone holiday trim looks busy! Create spaces where the eye can rest and feel tranquil, not encourage the stress of the season.
By: Wendy Jones Rockcastle