Roses……
The most traditional and popular flower for Valentine's Day. In fact
when you think Valentine's Day a few images come to mind. Hearts, ROSES,
Chocolates. Teddy Bears, underwear and diamonds are right up there as
well but the image of a perfect Red Rose is my first thought when
hearing those words. Roses have long been the flower for February but
they are not the only lovely blossom that conveys those romantic
feelings.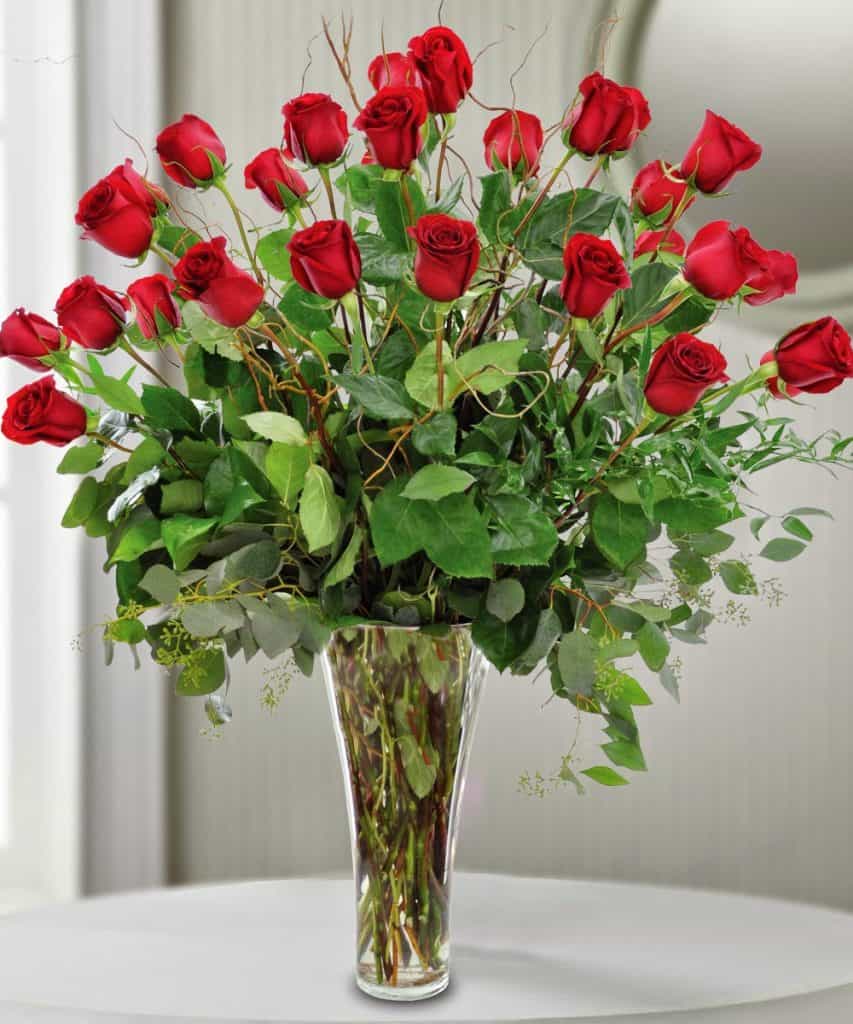 Men, over the years, have developed the belief that only one flower
typifies this February holiday: the traditional Valentines Day rose. But
not just any rose. The red rose. As a result, the floral
industry has to ramp up its efforts every year to try and come up with
enough red roses to meet that heightened demand. That means flower
growers kick it into high gear to push blooms to bud at exactly the
right time, resulting in crazy-busy efforts to get the flowers
harvested, processed, imported, trucked and then delivered to your
florist so that we still have enough time to design a bouquet of
Valentines roses that will blow your lady's socks off (or whatever
undergarment you prefer). The pressure to provide roses in such
abundance in such a limited window is enormous. Thus, red-rose prices
end up far higher during the holiday season than at any other time of
the year to cover all the extra costs associated with this frantic
production cycle.
And what's even crazier? Women don't necessarily even prefer red
roses! Sure, they are traditional, and lovely and romantic. But a
variety of surveys, and my experience as a florist for the last 13
years, show that many women prefer other flowers. Maybe it's the fact that roses are so traditional,
and modern-day ladies want something a bit more unique, fun or
personal. Whatever the case, you can feel confident that choosing
blossoms other than roses won't put you in the doghouse.
Here are a few other romantic favorites that Women love.
Stargazer Lilies…..
These beauties are preferred by anyone who longs for a perfumed aroma
from their purchase. Stargazers are a variety of lily renowned for their
fragrance, as well as buds that continue to open for several days after
purchase. They are most commonly scene in romantic pink and white but
they come in a stunning all white as well. Very elegant and when paired
with roses or by themselves absolutely gorgeous! No wonder this flower
is a favorite for any romantic occasion!
Orchids…..
A stem of orchids often sells at the same price point as a Valentines
rose stem, but orchids typically have a longer vase life. The hardy
blooms come in a huge assortment of styles and colors, too, so you can
choose a variety that matches your gal's particular preferences. These
are very sophisticated and elegant. They are so unique and stunning that
they really do make the flower buying experience special!
These stately flowers (often referred to as Calla Lilies) are typically
available in white, but other shades of pink, yellow and burgundy are
also offered. Set a bouquet next to one of that traditional Valentines
Day rose and you'll see immediately what the appeal is. They have a
unique and elegant shape. In fact because of the cone shape of them they
are a very popular wedding bouquet flower. Another sophisticated choice
for your Valentine.
Can't decide what to get?
How about a mixed bouquet?