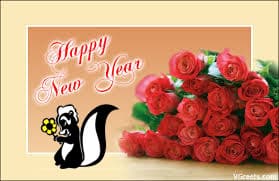 The new year is a time for new beginnings, and by the time December
31 rolls around, many people welcome the chance to start fresh and leave
the past in the past. Why else would over one million
people watch the famous ball drop in New York City's Times Square every
year, while almost one billion people watch the televised spectacle? Australia's
Sydney Harbour welcomes over one million people every year to watch
fireworks over the water, and fireworks over the Thames are a custom in
London. How we celebrate depends on where in the world we are on the
last day of the year because New Year's traditions
differ from country to country. But no matter where it's celebrated,
New Year's is always welcomed with traditional food and drink that
people hope will bring them luck and prosperity.
Here in the United States, the beginning of a new year is celebrated with Champagne
toasts at midnight, and in the South, eating black beans is considered
lucky. In Estonia, it's traditional to eat seven, nine, or 12 meals
on New Year's Eve, with part of each meal left unfinished for the
spirits of ancestors who visit the house that day. And people in
Scotland participate in the tradition of "first footing" on New Year's Day, bringing gifts of shortbread, a black bun, and whisky to a neighbor's house.
However
you celebrate, there are plenty of ways to say "Happy New Year!" from
Australia to Wales, and many of them involve traditions that promise
luck and prosperity.