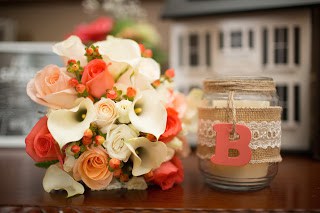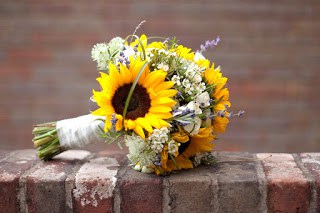 The latest fashion in fall wedding flowers is warm, richly hued
arrangements with lots of texture variety. Instead of using just a few types of stems in your centerpieces, try a wide mix of
flowers coordinated with your color plan. For example, you could start
with a base of classic flowers and mix in feathery crocosmia and
velvety coxcomb. Or you could add non-floral accents such as viburnum or
hypericum berries, lotus pods, fiddlehead ferns, or wooly lamb's ear
leaves to make the arrangements more remarkable. For a distinctly fall touch, poppies with dark centers add visual depth and a dramatic element
that announces that summer is gone.
Although texture is key, classic flowers still reign for fall weddings. Adjust them to the time of year by selecting more deep and dramatic
shades than you would in the summertime — opt for classic fall hues or go
with more unexpected colors like aubergine, copper, and forest green.
Lush, elegant dahlias may be the perfect fall bloom since they
come in all the autumnal tones (red, burgundy, orange, and plum). Of
course, roses will always be popular and are available in any hue you
need for your fall color scheme. Also hot for fall weddings: antique
hydrangeas in greens and purples, and deep crimson calla lilies.
For centerpieces, unique containers are in style. Classic glass vases
may feel right in summer, but for fall, style-conscious couples are
using everything from eye-catching copper pots to silver trophy cups and
gold-leaf vases, or going earthy with containers made of wood or
covered in lichen or burlap. Mismatched antique urns or pots from the flea market
are also popular. Use a collection of pots in different sizes — as many
as five per table — that your guests
can take home at the end of the evening. If you decide on glass vases,
you can add a distinctly fall feel by using wheat berries or millet as a
base for the flowers.
See more fall wedding ideas on the Pugh's Flowers Pinterest Page.