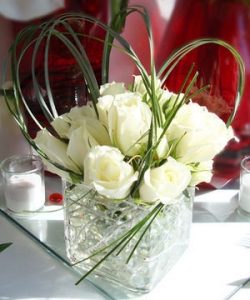 Whether you are hosting a New Year's Eve bash or holiday party for friends, family, or colleagues, you want to make sure everything is perfect – from the food to the music to the decorations.
While we can't help with the food or music, we can deliver some exceptional floral decorations that will add color or sophistication to your holiday party.
To show you what we mean, check out these items from our New Year's collection of floral designs:
A Festive Cube contains white roses in a clear cube with winter greenery. It's compact but makes a nice table or place setting decoration.
A Holiday Wonder Centerpiece can grace a table or buffet table. It features lilies and orchids along with other fresh flowers and greenery.
Holiday in White has white Casablanca snapdragons along with greenery and white candles.
Tis the Season has garden and exotic flowers for a colorful look to brighten up your holiday party décor.
White New Year features hydrangea and lilies along with winter greenery.
Bright Whites is a contemporary floral cube or cylinder style arrangement with a range of white flower varieties.
If you would like custom flower arrangements for your holiday party, please be sure to contact us by phone or email or you can stop in and make an appointment with our events coordinator who can work with you on creating unique décor for your upcoming event.
We can also do larger floral decorations to fit any type of residential or commercial space that also fits your design preference, style, and budget.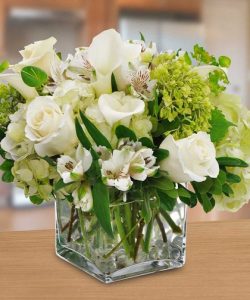 We also offer special holiday party gifts like fruit and gourmet food baskets, which make nice items to hand out as part of the celebration.
Call us today to get your holiday party decorated!