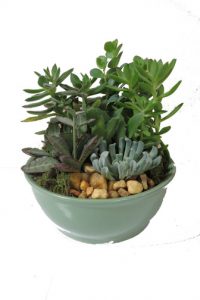 Sunday, June 18th is the day we let Dad put his feet up and spoil him with gifts and family time to let him know we appreciate how he has always been there for us no matter what. Our dads are those unsung heroes in our lives that deliver advice and dish out some great barbecue while listening and keeping us in line. We love our dads and this is the time on Father's Day to let them know more so than on other days.
Our Father's Day collection serves as a great gift guide for Dad and offers something for every kind of dad plus Father's Day gifts that fit your budget. Check out these highlights:
SUCCULENT GARDENS
Our succulent gardens are available in three sizes and are arranged in a ceramic container with a variety of planted succulents. Dad will enjoy that they are low maintenance and last a long time.
DESK PLANT
This is an easy care, green plant that is displayed in a rattan basket. It just needs a little natural light and some water and it will stay with Dad for years to come.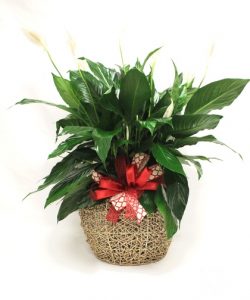 THE EVERYTHING BASKET
This Father's Day gift basket includes a peace lily along with assorted snacks and goodies. Dad gets two great presents in onSUMPTUOUS
SUMPTUOUS GOURMET BASKET
The Father's Day gift basket comes in a wood and metal tray. It includes enough for the whole family if Dad is willing to share. There are treats like chocolate truffles, Napa Valley mini mustard, Monterey Jack cheese, olives, Nunes Farms almonds, Bellagio hot chocolate, sourdough crackers, Epicurean cookies, Dolcetto pastry cookies, classic wafer cookies, Jer's caramel squares, salted caramel chocolate chip cookies, Ghirardelli milk & caramel bar, hot fudge brownie, butter toffee pretzels, sugar cookies, cookie brittle, Ghirardelli assorted chocolate squares, honey cinnamon almonds, California hard fruit candies, flatbread crackers, Biscoff cookies, California wine wafers, cheese straws and Jo's S'mores.
STARBUCKS EVERGREEN COFFEE AND TEA BASKET
This Father's Day basket includes Starbucks coffees, teas, biscotti and one mug. It will save Dad a few trip to his local Starbucks.
SPORTS LOVERS BASKET
If your dad is a sports lover, then he will love this basket that includes great sports-watching treats like popcorn, gourmet chocolates, chips, dips, candies and more. Choose from soccer themed or football themed baskets that are available in two sizes.
LARGE FRUIT AND GOURMET
Our largest local gourmet basket comes with a variety of fruits and gourmet items that Dad will love.
We also have Father's Day gifts in our Memphis flower shop, including Father's Day balloons and Father's Day cards. Order online, call us, or visit our Memphis florist location. You can pick up your Father's Day gifts or have them hand delivered throughout the Memphis area. We also handle national orders for Father's Day. Order now for best selection, delivery time, and promotions.