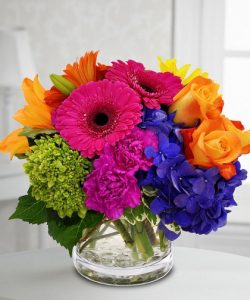 The second week of August is National Smile Week each year. It's that time again to think about how you can make those around you smile with a thoughtful gesture, some kind words, or something special that they won't expect from you.
Smiles aren't just for friends and family. It also feels good to make others you don't know smile by holding the door for them, saying thank you, or just smiling back at them.
When it comes to those special people in your life, a gift for National Smile Week might be what you want to do, so we have some great gift ideas for you designed around smiles: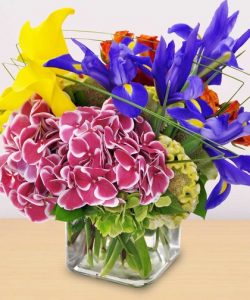 PERFECT MIX
Sunflowers are combined with a variety of purple and pink flowers in a cube style vase for a sweet message of concern.
BRIGHT AND CHEERY
Bring the sunshine to anyone's day with this flower arrangement of bright and bold blooms.
PURPLE AND YELLOW BEAUTY
This bouquet brings yellow and purple flowers together along with greenery to add warmth and beauty to your recipient's life.
BE HAPPY MUG
This keepsake happy mug is filled with cheery flowers like yellow and white daisies. It's a smile that makes a smile.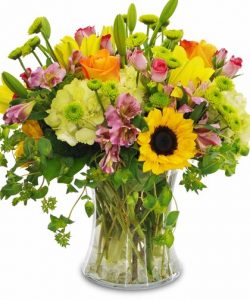 VIBRANT
This flower arrangement includes seasonal and fresh blooms that are available during the time period that you order it. For National Smile Week, we have summer flower choices and colors available for you.
HERE COMES THE SUN
Send the sunshine with this mix of bright flowers in a vase or container of your choice.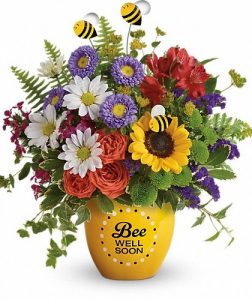 BRIGHT BOUQUET
Brighten anyone's day with this colorful flower arrangement that arrives in a cylinder style container.
SAY IT WITH SUNFLOWERS
Sunflowers and greenery make up this simple, yet, colorful, flower arrangement.
GARDEN OF WELLNESS
If you know someone who is under the weather or not well, consider this flower gift that will bring that smile back. It comes in a keepsake ceramic container that is overflowing with flowers.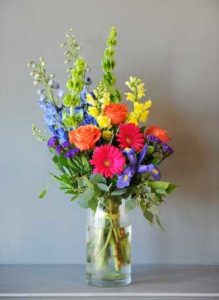 THE MIDTOWN COLLECTION
The midtown collection includes a vibrant mixture of flowers and colors. You can choose to send your flowers in a tall vase, cube, or wrapped bouquet.
Order today for local Memphis delivery or nationwide delivery so you can ensure you maximize the smiles during this special annual celebration!