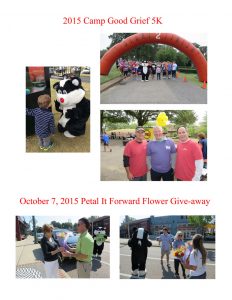 "For anyone dealing with the death of a parent, it is a very difficult time but for a child it is devastating. I know firsthand. My father died of cancer at the early age of 46 and I was only 16. This is why Camp Good Grief has become a passion of mine and our entire family. Children grieve differently than adults and Camp Good Grief gives them the opportunity and tools to overcome these tragedies. Please make time to join us on October 1st to celebrate life and know that your support is going to help children fulfill theirs."
This is a quote from Mark Pugh, our Memphis flower shop owner. In always working with the community, Pugh's Flowers has remained steadfast in its goal to help in any way possible. That's just one of the reasons they are sponsoring Camp Good Grief's 5K and one-mile walk. And, the rest, as you can see, is a personal connection to the fundraiser's objective. Camp Good Grief is the Mid-South's first children's bereavement camp.
About the Camp
Camp Good Grief is the Mid-South's first children's bereavement camp. The objective of the camp is to provide a free camp for children, ages 6 to 12, where they can be helped by a supportive environment. Here, they can express their feelings about the loss of a loved one and be with others that have experienced a similar loss.
The camp is made possible through a grant from Baptist Memorial Health Care Foundation. It's also able to function each year because of the generous individual donations and partnerships with local businesses like Pugh's Flowers, Pugh's Earthworks, Moe's Southwest Grill, and Memorial Park Funeral Home and Cemetery.

Fundraising Efforts
Besides sponsoring the event, Team Pugh has already raised nearly $1,200 and is in the lead in terms of team fundraising. The goal is to get $10,000. Nearly 40% of the total goal has been met.
Event Details
Come join us on Sunday, October 1st, 2017 at 2 p.m. This is a fun family-centered event you won't want to miss this year or for years to come. Besides the healthy dose of competition in the 5k and one-mile walk, there will also be moon bounces, face painting, and games for the kids. Grilled hamburgers, cotton candy, and treats as well as soft drinks and bottled water.