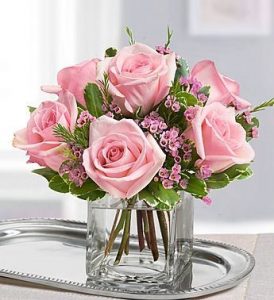 October is designated as national breast cancer awareness month. We do our part here in Memphis, along with numerous organizations, to raise awareness and money for research. It's hard to imagine that such a terrible disease keeps taking wives, mothers, sisters, and friends, but it does. That's why we have to keep fighting, and this month is a good time to start if you have never gotten involved.
In Memphis, there are many organizations planning races, walks, events, and remembrance ceremonies. Many people are also having their own private and family celebrations to remember many special people. There are also celebrations that toast those that have beaten breast cancer due to early detection.
We have been creating pink flower arrangements, bouquets, and centerpieces for events and gifts. If you are interested in these, here are some examples of the pink flowers we have available: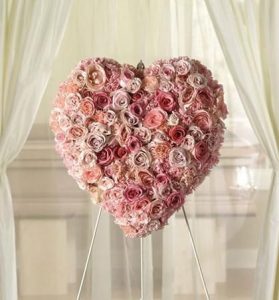 BLOOMS IN PINK
This small flower arrangement contains a mix of pink and purple flower varieties.
CALICO
This stunning floral bouquet includes roses, hydrangea, hypericum berries, lilies, and stock.
HEART FULL OF LOVE
As part of a remembrance ceremony, this is a truly heart-warming floral display of roses and carnations in various shades of pink arranged to look like a heart.
GORGEOUS PINK ROSES
Long-stemmed pink roses are the focal point of this arrangement that comes in a tall glass vase.
KISSED BY AN ANGEL
This thoughtful flower arrangement includes pink lilies, roses, and hydrangea.
PINK GRACE
This cube arrangement offers a variety of seasonal flowers, including many in shades of pink.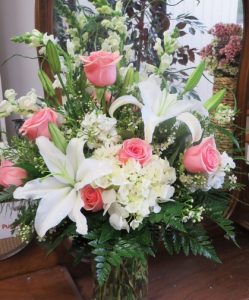 SWEET AND SENTIMENTAL
This arrangement includes six pink roses with greenery. While simple, it is full of heartfelt love.
Be sure to place your orders today at our Memphis flower shop, by phone, or through our website to get all your flowers for breast cancer awareness month!