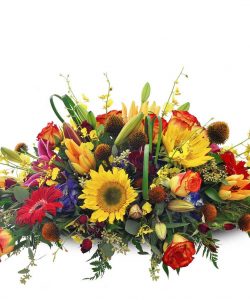 Thursday, November 23rd is Thanksgiving. It's that special time of year where we give thanks and reflect on all the people and things in our lives that we are grateful for.
It's also a great time to enjoy a big meal with family and friends, watch football, and get ready for the holiday sales.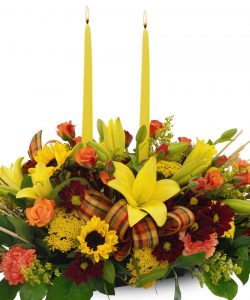 It also means a lot of errands and extra planning that can make it feel very hectic. However, when it comes to a part of this planning, we've got you covered with flowers, centerpieces, bouquets, and seasonal gifts in our Memphis flower shop and through our website.
We have an entire Thanksgiving collection that is affordable and provides fresh, beautiful ways to make Thanksgiving even more memorable.
To get you started, we are highlighting some of those Thanksgiving flowers right here:
COLORFUL CENTERPIECE
This Thanksgiving centerpiece comes in two sizes with abundant fall flowers. You'll be able to choose one that fits your table and your budget.
FALL CENTERPIECE
This special Thanksgiving centerpiece contains two yellow taper candles, fresh flowers, and wheat. Flowers include chrysanthemums and lilies arranged in a long and low container.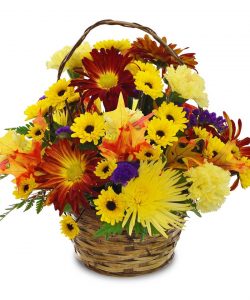 FALL MIXED BASKET
This mixed basket makes a great gift to send for Thanksgiving when you can't be there or when you are invited to someone else's home for the feast. It is full of colorful fall flowers and greenery.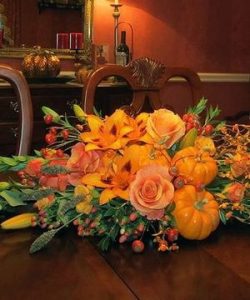 THANKSGIVING CENTERPIECE
This elegant Thanksgiving centerpiece will be a jaw-dropping presentation for your table with fall flowers and accents.
TABLE CENTERPIECE
This round fall centerpiece has one candle and numerous fall flowers. It is ideal for a small to a medium-sized table for Thanksgiving.
HARVEST CENTERPIECE
The centerpiece has flowers, ribbons, accents, and greenery, adding a festive touch to an already celebratory day.
THANKSGIVING BOX
Autumn treats, fruit, and a scented soy candle make a wonderful gift for Thanksgiving when you are invited to someone else's house for dinner. These gifts are tucked away in a keepsake rattan box with lid. This is for local delivery only in the Memphis area.
You can order today so you can cross one of many things off your list! Call us, visit our Memphis flower shop, or order online for extra convenience.