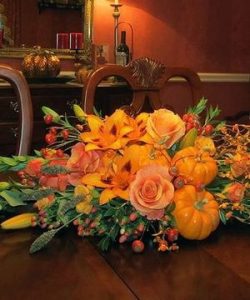 With Thanksgiving arriving on Thursday, November 23rd it's time to start thinking about how to decorate the house and table for the big feast. You've got friends and family arriving and you want to make everything extra special.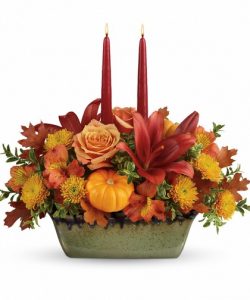 Our custom floral design services are the perfect way to make your Thanksgiving even more memorable. It's easy and affordable. That's because we make what you want to have and base the size and scope of the floral design on your budget, offering a generous amount of flowers designed in an exclusive way just for you.
To get ready to enjoy this custom Thanksgiving centerpiece (and any other accompanying custom flower arrangements for the table, buffet, door, and mantle), you'll first need to make an appointment to come into our Memphis flower shop to work directly with our floral design team.
Before arriving, it's a good idea to have some things in mind. Be sure to check out our Thanksgiving collection and photo gallery to see what we have done for other people. You can also look at design sites like Pinterest for additional ideas on what you might like to have for your custom Thanksgiving centerpiece.
Think about the colors you like and what complements the dishware, tablecloth, and overall design scheme you have for Thanksgiving. From there, get your table size, shape, and overall dimensions so the floral design team can suggest a centerpiece size that balances your table and provides the right height and depth to your display. 
Don't forget that there are many types of fall accents that can create more than just a centerpiece but work towards a tablescape with fall leaves, acorns, branches, candles, and gourds scattered throughout your Thanksgiving table and buffet table. Maybe you can use old glass bottles or ceramic vases that are family heirlooms as containers for an array of floral displays that personalize the effect.
Whatever you decide, be sure to enjoy the experience. You want to make memories and creating something spectacular for Thanksgiving will make a great impact on you and your family.
Remember we have four flower shops in Memphis that can work with you to create your custom Thanksgiving centerpiece and flower arrangements.