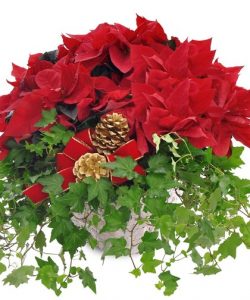 Tuesday, December 12th is Poinsettia Day. It's a day that celebrates this beautiful, festive blooming plant that you so often see at Christmas. It evokes the Christmas spirit in shades of red or white. Celebrated across the country, it's a formal way to say Christmas is nearly here!
The poinsettia plant is a beautiful way to decorate your home or office, especially on walkways and porches.
However, you can also consider sending a poinsettia plant on Poinsettia Day or any day leading up to Christmas to friends, family, colleagues, clients, and service people. It's long-lasting so they can enjoy it throughout the holiday season and beyond.
Here are some ideas from our poinsettia collection:
CLASSIC POINSETTIA DELIVERY
The classic red poinsettia is a traditional favorite during the holiday time. It adds to the festive decor and atmosphere.  We also have white and marbled poinsettias that add a beautiful touch to your environment.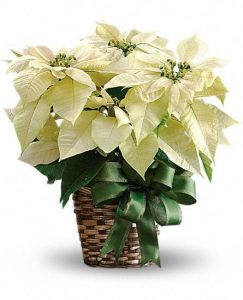 WHITE POINSETTIA
White poinsettias make for truly elegant gifts. Ours comes with a festive ribbon in a basket.
POINSETTIA GARDEN BASKET
Celebrate the holiday season with a stunning basket design. These two poinsettia plants are adorned with wired ribbon and placed in a basket. These can be shipped anywhere in the U.S.
HOLIDAY GARDEN
This unique holiday gift is a garden basket that's full of plants and poinsettias. All of them are potted in a ceramic bowl. Nationwide delivery is also available but the plants and containers may vary based on what each local flower shop has available to them.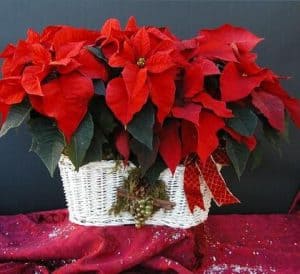 Place Your Holiday Order!
Now's the time to order poinsettias, garlands, tabletop trees, wreaths and more. Don't forget your Christmas dinner centerpiece either!