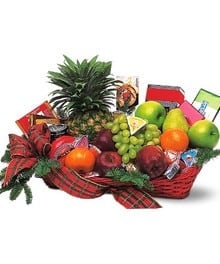 From teachers at your kids' schools to the gardener, pool person, house cleaner, and trash man and even all your staff if you own a small business, this is the time of year to recognize all the help they contributed this year to keep you on task and organized.
At our Memphis flower shop and through our website, we have a number of holiday gift baskets that show this appreciation and let all these helpful people know you remembered all that they did for you. Here are some of the holiday gift baskets we have available for order right now:
HOLIDAY FRUIT BASKET
This gift basket offers a wide array of fresh fruit and nibbles for the holidays. It's wrapped to protect all the goodies and keep them fresh. This one comes tied with a festive holiday bow.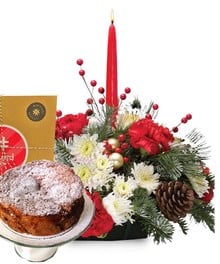 SWEET CENTERPIECE
This is a great combination of a holiday floral centerpiece with candle plus a locally made pound cake.
HOLIDAY GOURMET BOX
There is a wide variety of holiday edibles that is perfect to thank a larger group all at once that can be shared between them. That means sending it to a group of teachers or your office staff.
SUMPTUOUS GOURMET BASKET
There is such an incredible range of deliciousness within one of the largest holiday gift baskets we've ever offered. There are chocolate truffles, Napa Valley mini mustard, Monterey Jack cheese, olives, Nunes Farms almonds, Bellagio hot chocolate, sourdough crackers, epicurean cookies, Dolcetto pastry cookies, classic wafer cookies, Jer's caramel squares, salted caramel chocolate chip cookies, Ghirardelli milk & caramel bar, hot fudge brownie, butter toffee pretzels, sugar cookies, cookie brittle, Ghirardelli assorted chocolate squares, honey cinnamon almonds, California hard fruit candies, flatbread crackers, Biscoff cookies, California wine wafers, cheese straws and Jo's S'mores.
HOLIDAY TRAY OF TREATS
This gift includes a keepsake wooden tray filled with a number of goodies like chocolate turtles, divine divinity, fruit, and candy canes. This one is only for local delivery throughout the Memphis area.
Place your order now for delivery by Christmas!