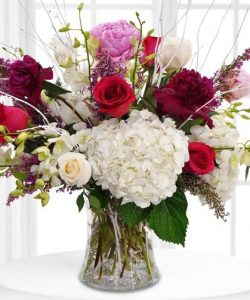 Besides the cooking, shopping, and decorating, there may also be some type of holiday parties in your plans. It could be a Christmas party at your home or office. Or, it could be a larger holiday event. Maybe you have plans for a New Year's Eve party with family and friends.
It's time to start party planning if you haven't done so already, but don't worry because we are here to provide the holiday party centerpieces and any other types of floral displays you want. We can even provide holiday balloons for your party.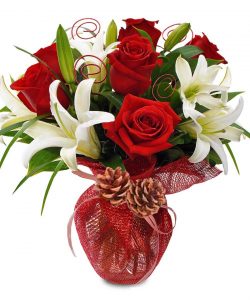 Here are some winter flower ideas for the perfect holiday party this season:
TIS THE SEASON
This tall floral arrangement is great for large events and big table settings. It combines traditional winter flowers with many types of exotic flowers for a truly luxurious floral display.
CHRISTMAS LILIES AND ROSES
Christmas lilies and roses reflect our ever popular floral display we call the Love Me Tender arrangement. This holiday version keeps the spirit of Memphis and Elvis Presley in your Christmas celebration.
HOLIDAY ROSE BOWL
Red roses of all sizes are surrounded by festive ornaments in a glass fish bowl vase. This is an excellent choice for a holiday party centerpiece that any guest would love to take home with them.
A MEMPHIS CHRISTMAS
This is also a bowl full of cheer that has numerous festive colors and seasonal touches to enhance any holiday party setting. It's affordable and provides a great choice for parties of all sizes.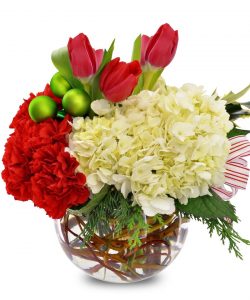 A HOLIDAY WONDER CENTERPIECE
This elegant holiday centerpiece will create a spectacular winter wonderland display. It offers lilies and orchids as well as other special winter white flowers.
GLORIOUS WINTER CENTERPIECE
This is a luxury floral centerpiece full of orchids and other premium flowers. It's definitely on the high-end of the price range for holiday party planning.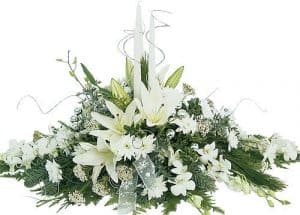 We also do custom holiday party flower arrangements. Call and book your appointment now or order from our holiday collection today!