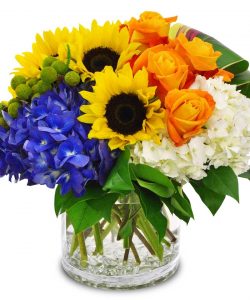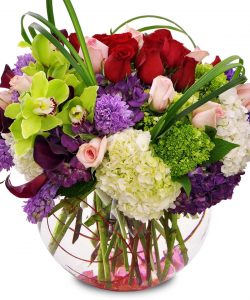 In starting a new year, you may be reflecting on the joys of the past holiday season. There were many gifts, invitations, and special times with family and friends. Also, other people played a role in making it a special time.
This is when you can start a year of gratitude and show others just how thankful you were for their time, presents, and memories. Here are some special ways to show that thanks with flowers from our bestseller collection:
HAPPY DAY
Happy Day Bouquet includes a mix of seasonal flowers like hydrangea, roses, and other assorted blooms. It also is accented with seasonal greenery based on what we have available.
ANOTHER DAY IN PARADISE
This oversized flower arrangement is filled to the brim with all types of premium and garden flowers, including greenery accents. It comes in a large glass vase.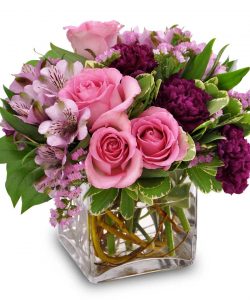 BLOOMS IN PINK
This compact flower arrangement comes in shades of pink and purple. We use the freshest seasonal flowers to illustrate your appreciation to the recipient.
DELIGHTFUL BOUQUET
Flowers of all colors and types arrive in a clear glass vase. Also a larger size bouquet, this is a special way to show your thanks.
HAPPINESS PACKAGE
This fragrant package includes two special gifts. First, it contains a floral arrangement with hydrangea and lilies. Second, the recipient receives a hand-made soy candle that has one of four designs on the front of the candle holder.  
SUNFLOWERS AND KRISPIE POP
Here's another value deal with two gifts in one delivery. This one includes a skunk-shaped Rice Krispie treat on a stick, which we call a Skunk Pop.  Plus, it comes with a vase of sunflowers.  This is a local only gift for those in the Memphis area.
SHIMMER OF THANKS
If your recipient loves yellow, then this is the flower arrangement for them! It contains numerous types of yellow blooms arranged in a metallic cube with unique cutout designs. The recipient can remove the teal liner and "thanks" pick and use the cube as a candleholder after the flowers are gone.
It's time to say thanks! We make it easy to order by phone or in our Memphis flower shop. Plus, our website can take your order with just a few clicks!