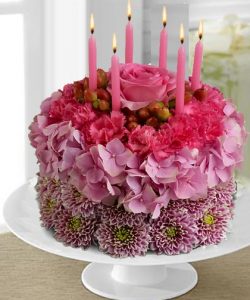 It's a new month and the month that heralds spring birthdays. You most likely have a few March birthdays on your gift list for friends, family members, colleagues, and clients.
Here are some ways from our birthday collection where we can help you celebrate those March birthdays in a beautiful, thoughtful way:
FASHIONISTA
This is an elegant and fashionable display of seasonal flowers and greenery. It's bright and cheerful, offering a great way to. celebrate a birthday.
FLOWERING BIRTHDAY CAKE
This unique floral display is made to look like a birthday cake except it doesn't come with the calories. Included are flowers like mini carnations and poms. It's a standout choice for a birthday present for anyone you care about.
COFFEE AND CAKE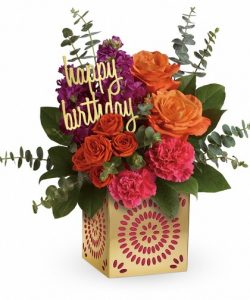 This is a great idea when you want to give more than one gift for a special birthday in March. It offers a keepsake ceramic mug with fresh spring flowers as well as a pound cake made by local Memphis bakery, Pound Cake, LLC.
BIRTHDAY SPARKLE
This special birthday treat comes in a shimmering golden cube that features delicate cutouts. This cube vase is filled with seasonal flowers and greenery. The cube makes a great candle holder when the flowers are gone.
FASCINATING
This birthday flower arrangement has a dozen different varieties of exotic and garden flowers in a large glass vase. It's a great way to send a big birthday shout out.
BEAUTIFUL GLADS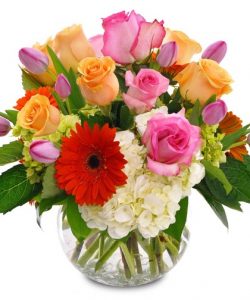 This floral arrangement offers 12 stems of mixed color glads in a glass vase. It's a very tall and grand birthday statement.
HERE COMES THE SUN
This is a garden style flower arrangement that offers cheerful birthday wishes.
Don't forget that we also have birthday balloons, greeting cards, and many other special gifts made from local Memphis artisans.
Check with us on which birthday gifts are available for Memphis delivery and which can be sent across the country should you want to send March birthday gifts elsewhere. We take birthday flower orders in our Memphis flower shop, by phone, and through our website.