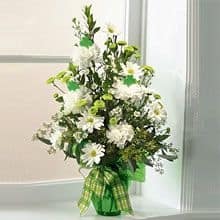 March means spring and daylight savings time, which arrives on March 11th. It also means special holidays like Easter and St. Patrick's Day. Plus, there are other special events like Plant a Flower Day on March 12th.
Flowers are great for these occasions because they enhance the atmosphere and remind of us of the new season that is just a week or so away that is all about renewal, growth, and transformation. Here are some ideas for these special days of March:
ST. PATRICK'S MIX
This green mix of flowers and greenery accents is sure to be a great way to celebrate this March holiday.
A ST. PATRICK'S DAY TRADITION
Here are 12 green carnations arranged in a glass vase with baby's breath and complimenting greens. It makes a great St. Patrick's Day present or party decoration.
BAMBOO GARDEN
This is a tall and grand bouquet that is arranged in a short square bamboo container. You can pick the colors to represent any occasion or gift reason.
DAISY FRESH!
This vase overflows with white and yellow daisies, making it a great spring gift, way to celebrate a March holiday, or beautiful way to decorate your home for the season.
BRIGHTLY BLOOMING
Spring stems of all colors and many varieties arrive in a stunning vase.
SPRINGTIME SMILES
This spring arrangement includes roses, hydrangea, and stock. It's also on sale during the month of March while supplies last. That means it's a great buy for any special occasion, gift, or decoration.
STUNNING SPRING MIX
A fish bowl vase holds all types of spring flowers and greenery in a garden style arrangement. It's a great gift or decor item for the spring season.
SPLENDOR
This simple spring arrangement comes in various colors, depending on what we have available. It's a sweet way to welcome spring and reminds us of why we should all go out and plant a flower on March 12th.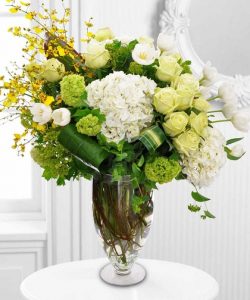 Our Easter collection will be here soon! Check back in our Memphis flower shop and our website to see all the great decorations and gifts for Easter.