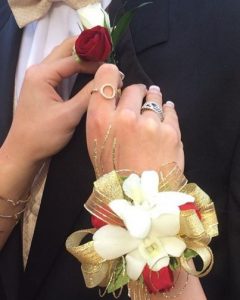 It's that time of year again with high schools throughout Memphis hosting a prom, one of the biggest events of high school for juniors and seniors. While there is a lot to in terms of getting a dress, tux, and hair and makeup appointments, one area you don't have to worry about is prom flowers.
That's because our Memphis flower shop has you covered with an online and in-store collection of prom flowers that include fresh, personalized, and budget-friendly prom corsages and prom boutonnieres.
DANCE THE NIGHT AWAY CORSAGE
This fresh corsage for prom offers bright flowers, greenery, and special bling accents on an elastic wristband. There is a matching boutonniere for that special prom date.
GLITZ AND GLAMOR DANCE FLOWER
This is a simple, yet elegant, prom flower package that includes a boutonniere and corsage with white flowers and ribbon. The prom corsage is tied to a rhinestone bracelet.
WRIST AND RING CORSAGE PACKAGE
One of the latest prom flower trends is the ring corsage. This prom flowers package includes a wrist and ring corsage in bright colors with greenery and ribbons to enhance the look.
RING CORSAGE
This trendy ring corsage gives you a special look that stands out in the prom crowd. We have a wide range of colors, flower varieties, and styles to choose from.
CELEBRATE IN STYLE
This feminine corsage includes greenery, a choice of three color schemes with either pastel or bold colors, wire accents, and ribbons. The prom corsage comes on an elasticized band.
PEARLY NIGHTS
A pearl style bracelet highlights a choice of many colors and styles that are set to complement your prom attire.
SUCCULENT CORSAGE
This is truly a unique prom corsage. It is a succulent highlighted with ribbon and greenery. You most likely won't see anyone else with such a different prom flower design.
Call us today to get your prom flowers. We need at least 48 hours to make these labor-intensive floral masterpieces.