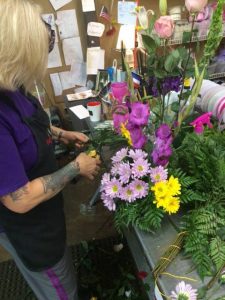 Mother's Day is a week away on Sunday, May 13th. Are you ready? If not, that's okay because we have you covered with our Mother's Day collection available for order in our Memphis flower shop or online through our website.
Here are some ideas to show you just how easy and affordable it is to get mom something special for Mother's Day:
DOUBLE PLANT BASKET
Mom will love these wooden planters that contain two plants, one blooming while the other one is green and leafy. It also includes a seasonal ribbon and accents.
WHAT A MOM WANTS
This special Mother's Day package includes a fresh pound cake and a decorative garden of plants. The pound cakes are made locally by Judy Pound Cakes. it's only available in the Memphis delivery area.
BLOOMING LOVE
This is another Mother's Day package, and it includes a blooming plant, gourmet chocolates, and a festive mylar balloon for Mother's Day.  The blooming plant includes two options, which are a hydrangea or azalea plant.
LARGE BLOOMING GARDEN
This blooming garden for Mother's Day is loaded with green plants plus it has a blooming plant that Mom can enjoy indoors or re-plant outside in her own garden.
WHAT A GIRL WANTS
Mom will love this gift package that contains long-stemmed red roses and gourmet chocolates. You can also choose pink roses based on current availability.
FRAGRANT GIFT COMBO
This Mother's Day gift combo includes either six or 12 roses. Along with the flowers, your mom will receive a handmade soy candle with four designs and scents to choose from. This is also only for local Memphis delivery.
Besides these beautiful Mother's Day gift ideas, we also offer balloon bouquets, greeting cards, specialty gift items and other items mom is sure to love. Plus, if you call now you can meet with our floral design team and put together a custom Mother's Day flower arrangement or bouquet.