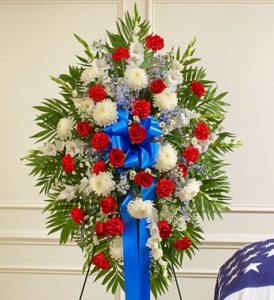 Memorial Day is Monday, May 28th. Here in Memphis, there are many events and ceremonies for Memorial Day happening over the weekend and on Memorial Day.
It's a special time where we remember all of those who fought for us, our freedom, and our security. Throughout many wars, battles, and conflicts, the soldiers we lost had the courage to be on those front lines for us.
This is when we stop and reflect on those we have lost whether they are friends, families, and colleagues.
At our Memphis flower shop and through our website we offer Memorial Day wreaths and patriotic flowers like these:
A SACRED DUTY SPRAY
This tall, free-standing spray wreath is made to look like a fireworks display except with patriotic flowers.
FOR THE PATRIOT
The colors of the flag are beautifully represented in this patriotic spray for Memorial Day. It also has a coordinating ribbon to match the red, white, and blue flowers.
HOORAY FOR THE RED, WHITE, AND BLUE
This red, white, and blue flower arrangement displays patriotism and honors those we have lost in the battle for our freedom.
MIXED PATRIOTIC ARRANGEMENT
This is a custom floral arrangement solution that lets you work with our design team to create something unique and fitting for Memorial Day.
SPIRIT OF AMERICA
This patriotic floral display includes a variety of red, white, and blue flowers along with American flag accents. It makes a great gift for someone who has lost a loved one in a war.
PATRIOTIC SPIRIT WREATH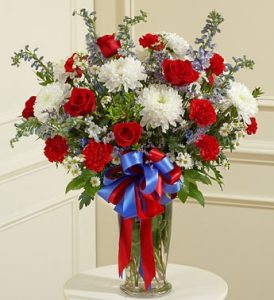 This wreath offers red, white, and blue flowers. The main part of the wreath features numerous white and cream-colored flowers while the top of the wreath offers a patriotic display.
Visit our Memphis flower shop, call us, or order online today for local Memphis delivery. We can create Memorial Day flowers for local Memorial Day ceremonies, events, and parades as well as bouquets for personal remembrance services.