The official start of summer is June 21st. This is a good time to start celebrating all that Nature brings us during the summer time with a new crop of summer flowers and plants.
Check out these beautiful arrangements for the summer season many of which are newly added floral designs to our collection here at our Memphis flower shop. Here are a few of the summer bouquets you can choose from: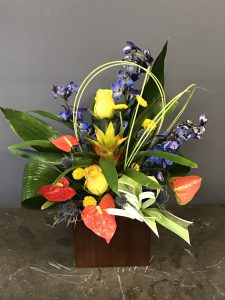 DAISY DUO
This is a new flower arrangement for summer that offers mixed daisies along with a daisy necklace that fits any size. This is a great gift idea for a summer birthday, anniversary, or other special reason. This is only available for local delivery and pickup.
SHELBY SPECIAL
This summer flower arrangement includes succulent plants and roses. Colors and succulents will vary according to what is available when you order from us.
SUMMER CHIC
This is another new summer bouquet that features sunflowers and various other blooms based on what we have in stock.
DELTA DELIGHT
This stunning summer floral display offers roses, hydrangeas, and succulents with a southern style floral design.  Colors may vary according to what's in stock when you place your order.
SUNNY SUNFLOWERS
We have numerous sunflower arrangements for the summer, including this simple, yet stunning, arrangement in a glass bowl that has been filled with sunflowers.
SAY IT WITH SUNFLOWERS
This is another sunflower arrangement for the summer season that has copious amounts of sunflowers and greenery in a tall vase.
GARDEN JOY ABOUNDS
This garden style arrangement of summer flowers includes such favorites s sunflowers, lilies, roses and more. It's great to enjoy at the home or office, to give to someone special, or use for an upcoming summer event like a summer wedding or summer party.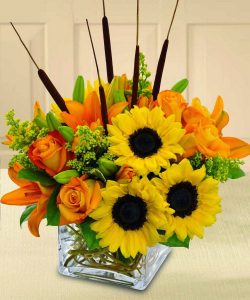 Call our Memphis flower shop or stop in today to place your order. You can also order online through our website!