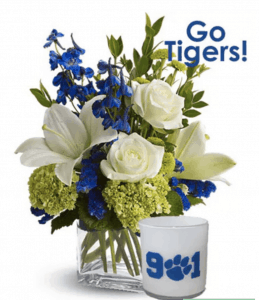 While it's nice to receive flowers as a gift or a special treat, it's even better to get both.
That's why we've put together many special package deals at our Memphis flower shop that are available in-store and online.
Here are some of those special deals you can send for a birthday or any other celebratory occasion:
GO TIGERS GO PACKAGE
If you know a Tigers fan, then this gift is perfect! It includes a blue and white floral arrangement in a clear cube and a hand-made 901 soy candle.
BLOOMING WISHES
This package includes a blooming plant, assorted gourmet chocolates, and a "thinking of you" Mylar balloon.
DAISY DUO
This new package includes a daisy flower arrangement with mixed colors as well as a daisy necklace that fits any size.
PLENTIFUL PURPLE PACKAGE
This special package deal comes with a large bouquet of mixed flowers in various purple hues, a box of gourmet chocolates, and a medium-sized teddy bear.
BEAR BASKET
This package features a teddy bear, a box of chocolates, and two festive Mylar balloons.
COFFEE AND CAKE
This gift package combines a ceramic mug filled with fresh flowers with a freshly made pound cake from Pound Cake, LLC.
DAISY CHIPS
A bowl full of daisies is combined with a dozen freshly baked chocolate chip cookies from Buckley's for this special package deal.
HAPPINESS PACKAGE
This package includes hydrangea and lilies plus a handmade soy candle. Both the flowers and the candle offer a wonderful scent.
We have many other special deals to choose from so you can find the one that's right for your gift-giving needs. Most of our package deals are only available for local Memphis delivery. That's because most of the items in the packages are made from local Memphis companies.
Order by phone, in our Memphis flower shop, or online!