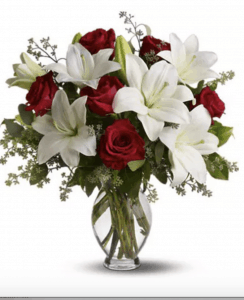 August 16th is the anniversary of the death of Elvis Presley. Here, in Memphis, it is a very important date.
There will be many people coming from near and far to commemorate the death of our beloved hometown icon.
In fact, Graceland puts on an entire week of special events that Elvis fans can come and enjoy.
Here are some special flower arrangements to bring to Graceland as part of your own Elvis celebration:
LOVE ME TENDER
The King of Rock and Roll got it right when he said, "Love Me Tender." This is the perfect name for this floral arrangement of roses and lilies just right too! You can choose from six red or pink roses and lilies, which are arranged in a glass vase.
BOLD AND BRIGHT TRIBUTE
Choose from an urn or pot for this bright and bold flower arrangement that reflects the larger than life Elvis Presley.
CELEBRATION OF LIFE ARRANGEMENT
Standing at two-feet high, this memorial flower arrangement is sure to stand out. You can customize this bouquet by selecting the flowers and colors you want.
BASKET OF LIGHT
This elegant basket features an all-white tribute to Elvis with a stunning combination of premium flowers.
ROSE MEMORIAL
These roses are a classic way of showing love and sympathy. The memorial bouquet includes more than two-dozen red roses and bounteous filler. Other rose colors may also be available.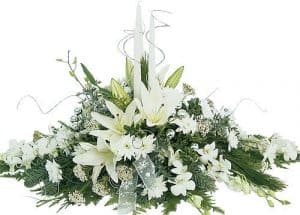 We can also create custom bouquets or custom flower arrangements in our Memphis flower shop for this special Elvis celebration.
Call now to schedule your appointment with our floral design team.
Or, you can place your order by calling our Memphis florist location or using our online order form through our website.