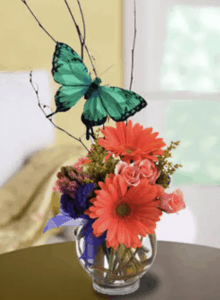 School starts in Memphis on August 6th so it's already time to welcome a new year of teachers for your kids.
It's not too late to thank those summer camp counselors either for taking your kids for part of the summer.
Here are some great flower arrangements and other gifts to show your appreciation to these mentors:
BUTTERFLY BUDS
This is a mixed bud vase that fits perfectly on any teacher's gift to remind them how much you appreciate what they do.
BE HAPPY MUG
This is two gifts in one. First, there is an oversized happy mug that teachers can re-use for their coffee or tea. Second, it comes with a large arrangement of bright seasonal flowers.
DAISY CHIPS
A beautiful daisy bowl is paired with a dozen freshly baked chocolate chip cookies from Buckley's, a local bakery here in Memphis. This is another special two-in-one gift.
SUNNY SUNFLOWERS
This is a beautiful bowl of sunshine with a generous display of sunflowers that will brighten any teacher's day.
BLOOMS IN PINK
This arrangement offers an array of flowers in shades of pink and purple.  It fits well in any space.
901 FIESTA
Celebrate all those amazing mentors in your kids' lives with this festive and colorful vase full of seasonal flowers and greenery.
JUST FOR YOU
A clear glass vase holds a wide range of colorful blooms to brighten the day.
BEAUTIFUL GLADS
Enjoy 12 stems of mixed color glads are arranged in a glass vase. It's a tall and grand flower arrangement that stands out.
DOUBLE PLANT BASKET
This gift offers a wood planter with one green plant and one blooming plant as well as ribbon accents.
EXTRA LARGE BLOOMING GARDEN
This blooming garden is one of the largest we offer. It overflowes with indoor green plants and a blooming plant that adds color.
ANY OCCASION BASKET
If you want to thank a team of summer camp counselors or group of teachers, then one of our gift baskets is the answer. This large gift basket has all kinds of sweet and savory treats. There are peppermint popcorn, English tea cookies, biscotti, Jacquot truffles, cheese, sourdough crisps, smoked salmon, mocha almonds, Jer's peanut butter squares, cheese straws, Jelly Belly jelly beans, shortbread cookies and a bag of Ghirardelli chocolate squares.
Order these gifts through our Memphis flower shop or online through our website today!