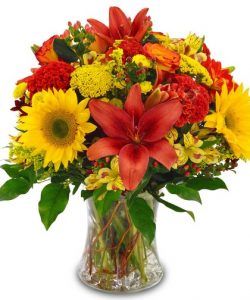 Here at our Memphis flower shop, we are busy planning for all the special days in October beyond just Halloween. There is Bosses Day on October 16th followed by Sweetest Day on October 20th and Mother-in-Law Day on October 28th.
This is a great opportunity to do something special for someone else in your life so they know how much they are appreciated. Our Memphis flower shop and website have some wonderful gifts that let you express this appreciation:
ROYAL GARDEN
This regal fall arrangement offers dramatic colors, an array of flowers and fall accents, and numerous textures.
GOLDEN GARDEN
A reusable container is filled with fall flowers and seasonal greenery in many shades of yellow and gold.
WILD AUTUMN
A rustic cube vase features a birch tree finish accented with twine and stamped metal leaf charms. Inside, there are many fall flowers and accents.
CITRUS HARVEST
An amber glass lantern with shimmering golden leaves contains bold fall flowers. The lantern container can be used as a candleholder after the flowers are gone.
CHARMED ROSES
A beautiful ceramic vase with sculpted flower accents holds 12 red roses. It's absolutely stunning.
THE '48 FORD PICKUP
This is a great gift for the boss. It features a keepsake container that's filled with bright flowers.
CELEBRATION PACKAGE
Our Celebrate Package is perfect for anyone. It contains a mixed vase of colorful seasonal flowers and a delicious pound cake. Hopefully, your recipient will share a slice of yumminess.
ANY OCCASION BASKET
To impress the boss consider this gourmet basket of everything delicious. It has peppermint popcorn, English tea cookies, biscotti, Jacquot truffles, cheese, sourdough crisps, smoked salmon, mocha almonds, Jer's peanut butter squares, cheese straws, Jelly Belly jelly beans, shortbread cookies and a bag of Ghirardelli chocolate squares. This is an online order only.
SUMPTUOUS GOURMET BASKET
Even grander is this massive gourmet gift for your boss or someone else who is special. It features a wood and metal tray that is piled high with Chocolate truffles, Napa Valley mini mustard, Monterey Jack cheese, olives, Nunes Farms almonds, Bellagio hot chocolate, sourdough crackers, Epicurean cookies, Dolcetto pastry cookies, classic wafer cookies, Jer's caramel squares, salted caramel chocolate chip cookies, Ghirardelli milk & caramel bar, hot fudge brownie, butter toffee pretzels, sugar cookies, cookie brittle, Ghirardelli assorted chocolate squares, honey cinnamon almonds, California hard fruit candies, flatbread crackers, Biscoff cookies, California wine wafers, cheese straws and Jo's S'mores. Both this and the other basket listed here are only available through our website.
Place your order today for these special October events!