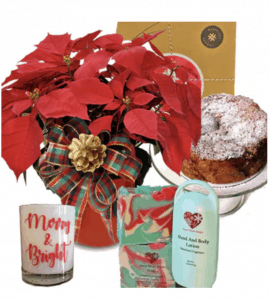 Wednesday, December 12th is Poinsettia Day, which recognizes this season of giving with a special red or white blooming plant often recognized as the symbol of Christmas.
Whether you are decorating your home or business or want to give a gift of a poinsettia, now is the time to do it.
And, our Memphis flower shop is here to help with red, white, and mixed poinsettia plants in any quantity along with these other poinsettia basket ideas from our poinsettia collection:
CLASSIC POINSETTIA DELIVERY
The classic red poinsettia is a traditional favorite for decorating and gift giving. We also have white and marbled (red and white) poinsettias to choose from. The container varies based on availability.
HOLIDAY HOSTESS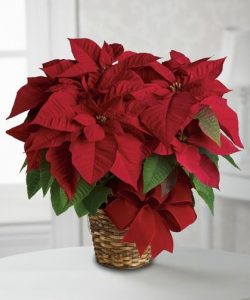 One of our favorite gift ideas for this holiday season is this package that includes a poinsettia plant along with holiday scents lotion and a soap gift set, a Memphis made pound cake and a hand-made soy candle. Consider this gift for a loved one, a client, or a holiday party host.
Poinsettia Care
If you plan on decorating with poinsettias, here are some maintenance and care tips for these long-lasting blooming tropical plants.
When you first bring your poinsettia home, you need to put it in the sunlight because it appreciates direct sunlight. Also, maintain a room temperature of 65 – 75 degrees Fahrenheit during the day and about 60 degrees Fahrenheit at night. Make sure it stays well-watered with a moist soil.
Once the Christmas season has passed, you can maintain the poinsettia plant by regularly watering it and giving it sunlight. Around the springtime, you will most likely need to decrease how much you water it so that it acclimates to a drying process.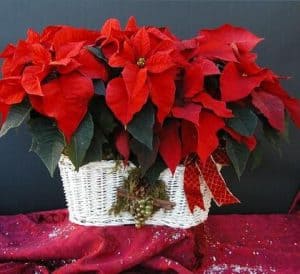 Add potting soil and repot it into a larger container while also cutting the stems back just before summer. When new growth appears, add fertilizer.
Around October, you'll need to put the poinsettia in complete darkness before bringing it back into the light in November and fertilizing it in December to encourage it to bloom again.
Remember to keep poinsettias away from pets or livestock that might eat the plants as they are toxic. Be sure to wash hands after handling the plant or wear gloves so the sap doesn't cause irritation to the skin or eyes.