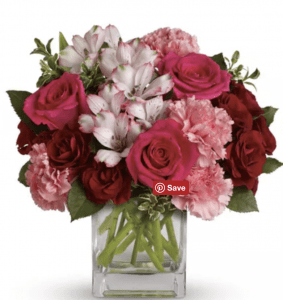 With Valentine's Day just a few short weeks away now is the time to think about how you can make a lasting impression with your special someone.
Our Memphis flower shop is fully stocked with everything from our Valentine's Day collection plus bulk flowers and flowers and seasonal accents for a special custom Valentine's Day bouquet or custom Valentine's Day flower arrangement.
In fact, when it comes to our custom floral designs, our incredible floral design team creates everything with your recipient in mind from what you share with them.
Here are some more of the types of Valentine's Day floral designs your loved one can enjoy that can shape your idea of what you would like to do for a custom Valentine's Day floral arrangement:
LOVE AND HAPPINESS
Show how much you love that special someone and what joy they bring to your lives through the beauty of flowers. This arrangement includes stargazer lilies and hydrangea.
LASTING LOVE
This special Valentine's Day floral gift includes roses, lilies, snapdragons, and hydrangea displayed in a tall glass vase.
BLOOMS IN PINK
A cube vase is filled with pink and purple flowers. It's a delightful way to show your affection for someone else this Valentine's Day, including teachers, colleagues, your kids, and friends.
DELIGHTFUL BOUQUET
This garden style flower arrangement offers three sizes with an increasing amount of blooms. There are flowers of many colors and varieties arranged in a clear glass vase. That means there is a size for every budget.
SPLENDID SUNSHINE
This is an incredibly large and tall arrangement to give a loved one this Valentine's Day. It offers a rainbow of colors along with different textures and sizes of flower varieties.
If you would like to order a custom Valentine's Day flower arrangement, you must make an appointment with our floral design team. Call us today to come and meet with our award-winning floral design team!