When you can't decide on flowers or a treat for a special person and occasion, we say get both!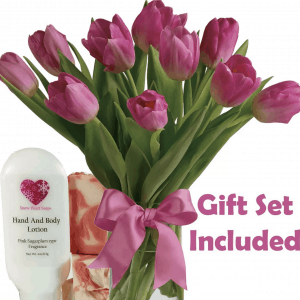 That's why our Memphis flower shop and gift website offers flower and treat packages that double the gift-giving while providing extra value for you as the giver.
Check out our current array of gift package deals:
TULIP GIFT SET
This gift set features one-dozen tulips along with a handmade scented lotion and soap set from local Memphis company, Snow Heart Soaps.
CONTEMPORARY ROSES & POUND CAKE PACKAGE
This gift package deal offers 12 red roses in a cube vase that is paired with a southern style pound cake from Memphis company, Judy Pound Cakes.
WHAT A GIRL WANTS
Send a beautiful message with this gift packge of long-stemmed red roses and gourmet chocolates. It's a great gift idea for that special someone in your life.
BEST MEDICINE
Made for cheering someone up or helping them feel better, this gift package offers flowers and soup. There is a choice of flavorst that include Shrimp Bisque, Southwest Tortilla, or Tomato Basil.
BLOOMING WISHES
This gift package offers a choice of blooming plants along with gourmet chocolates and a "Thinking of You" Mylar balloon.
BEAR BASKET
Give a cuddly stuffed teddy bear, a gourmet box of chocolates and two festive Mylar balloons. It's a festive gift package deal!
We have even more gift packages available on our website so be sure to check them all out!