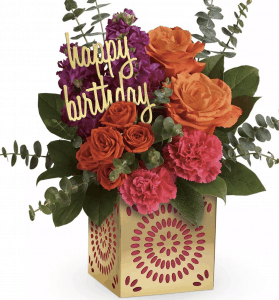 March has arrived and, with it, there are most likely many birthdays to celebrate between friends, family members, neighbors, and colleagues.
At our Memphis flower shop, we are preparing for a busy month with the arrival of spring flowers.
That makes our birthday flower arrangement collection that much brighter like these beautiful birthday gift ideas:
BIRTHDAY SPARKLE
A shimmering golden cube with intricate cutouts holds a celebratory bouquet with numerous seasonal flowers in bold colors.
YOUR WISH IS GRANTED!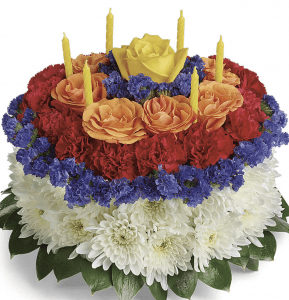 We have two beautiful flowering birthday cake bouquets. The first contains roses, carnations, and mums with birthday candles on top.
FLOWERING BIRTHDAY CAKE
The second birthay cake flower arrangement features mini carnations and pompons. It is topped with a rose and candles.
WOODLAND SURPRISE
This flower arrangement includes yellows, greens, oranges and more for a rustic floral design.
CELEBRATION PACKAGE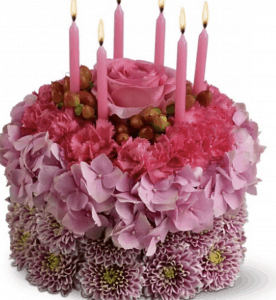 Celebrate a birthday with this package that contains a mixed vase of colorful flowers and a locally made pound cake that serves 4-6 people.
GOLDEN GARDEN
This sunny celebratory birthday bouquet offers a mix of yellow flowers, including the briliantly hued sunflower. The bouquet arrives in a reusable container.
Don't forget that we also have other gift packages as well as balloon bouquets and more to celebrate all those special birthdays!