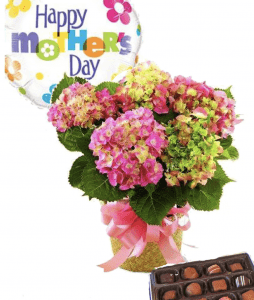 Mother's Day is less than a week away, but you still have time to order something special for Mom from our Memphis flower shop.
Our Mother's Day collection offers something for every Mom, including yours! Here are some easy to order, special Mother's Day gift ideas:
BLOOMING LOVE
This Mother's Day gift package includes a blooming plant, assorted gourmet chocolates, and a Mother's Day Mylar balloon. Choose from a hydrangea or an azalea plant. Colors will vary and are based on availability at the time of order.
WHAT A MOM WANTS
We have other Mother's Day gift packages, too, like this one that offers a local, fresh pound cake and a decorative green and blooming garden container.
MOM'S HYDRANGEA
A fresh hydrangea plant offers beauty now and for years to come. We can substitute an azalea plant if you prefer or if our hydrangea plant stock runs out prior to your Mother's Day order.
GRACEFUL ORCHID
The orchid is another beautiful blooming plant. You can give Mom this stunning orchid. We have a variety of container types available while supplies last.
TROPICAL BLOOMING BROMELIAD PLANT
Give Mom something truly unique like this colorful tropical plant known as the Bromeliad. The pot has a five-inch diameter while the Bromeliad stands between 18″ and 25″ tall.
SPRINGTIME PLANT GARDEN
This generous double plant basket comes with one green plant and one blooming plant in a decorative metal container. Containers and plants will vary according to availability but all offer color and beauty for your Mom to enjoy.
WHAT A GIRL WANTS
Another stunning gift package to show Mom your love, this one features a vase filled with long-stemmed red roses and gourmet chocolates. We have other rose colors available if you would prefer a different color based on what's available when you place your Mother's Day order with our Memphis flower shop.
Place your Mother's Day order today!