Pugh's Flowers
Voted Best Florist in Memphis
Pugh's Flowers has four retail locations in Memphis, TN. Our full-service florist has a full selection of fresh-cut flowers, fruit and gourmet baskets, green houseplants and home accessories that are all available in store, via the web or by phone. Pugh's Flowers is open 7 days a week 24 hours a day by phone 888-901-6744 and via the Internet. Our retail locations offer delivery 7 days a week both locally (Memphis, Millington, Bartlett, Arlington, Germantown, Southaven, Olive Branch, Horn Lake, West Memphis) and nationally.
Our Red Rose Sale is Here!
For a very short time — from June 3rd through June 7th only — we have our red roses on sale to celebrate June as National Rose Month. Celebrate with us by taking advantage of this incredible sale!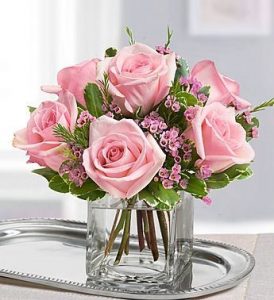 Save $20 on one dozen red roses or save $40 on two dozen red roses today by calling our Memphis flower shops or dropping in. Other red rose options on sale include even larger arrangements like three dozen red roses, wrapped red rose bouquets, or even red roses mixed with other premium seasonal flowers.
You can also take advantage of our June red rose sale by ordering online through our website.
June is Rose Month
Even when this incredible red rose sale ends, we'll still have the best rose deals in Memphis so you can enjoy roses throughout the month. Our other rose colors will also be available in various rose arrangements and different floral designs that feature roses.
This is also the opportunity to take advantage of roses during their peak growing season as a beautiful addition to a summer wedding or summer event as well as for special gifts for birthdays and other celebrations.
Our Stunning Roses
We are proud to say that we have the best selection of high-quality roses in Memphis. This includes a selection of long-stem roses, spray roses, and garden roses. We also have numerous colors and seasonal color choices to select from while quantities last!
Order today!