Pugh's Flowers
The Best Memphis Florist For Celebrating Family
Pugh's Flowers has four retail locations in Memphis, TN and we have been voted The Best Florist in Memphis for several years running. We offer the convenience to receive orders  7 days a week and 24 hours a day via telephone, 888-901-6744 or via our web home page. Our retail locations offer delivery 7 days a week locally in Memphis, Millington, Bartlett, Arlington, Germantown, Southhaven, Olive Branch, Horn Lake, and West Memphis. Our professional floral designers can create beautiful selections of fresh-cut flowers. In addition, we offer fruit and gourmet baskets, green houseplants and home accessories that are available at retail locations or via phone or web.
We are ready to deliver for you during the month of July so you don't forget any of those important family members who have always been there for you and supported you in every way. The month of July brings many special days to recognize some of these family members. There is Cousin's Day on July 24th, Aunt and Uncle Day on July 26th, Parent's Day on July 28th, and Father-in-Law Day on July 30th.
Here a few of the many gift ideas we have waiting for you, including these from our edible gift collection:
SUMPTUOUS GOURMET BASKET
Enjoy this massive gift basket at a family event that toasts all these special family members. it's packed with chocolate truffles, Napa Valley mini mustard, Monterey Jack cheese, olives, Nunes Farms almonds, Bellagio hot chocolate, sourdough crackers, Epicurean cookies, Dolcetto pastry cookies, classic wafer cookies, Jer's caramel squares, salted caramel chocolate chip cookies, Ghirardelli milk & caramel bar, hot fudge brownie, butter toffee pretzels, sugar cookies, cookie brittle, Ghirardelli assorted chocolate squares, honey cinnamon almonds, California hard fruit candies, flatbread crackers, Biscoff cookies, California wine wafers, cheese straws and Jo's S'mores.
COFFEE AND CAKE
This is a thoughtful gift with a keepsake ceramic mug filled with fresh seasonal flowers paired with a freshly made pound cake from Pound Cake, LLC made right here in Memphis.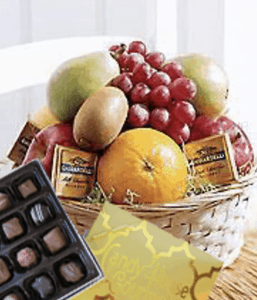 EXTRA LARGE FRUIT BASKET
Our largest fruit basket is loaded with fresh, seasonal fruit and wrapped and tied with a large bow.
CHOCOLATE LOVERS BASKET
A family member that loves chocolate will enjoy this chocolate gourmet goody basket.
SWEETS FOR THE SWEET
Snacks are perfect for so many special occasions. This snack and candy basket offers assorted candy bars, candies, peanut butter crackers, and other treats. There are three sizes that are available for this gift basket.
GOLF GIFTS FOR DAD
If you know a golfer and they like snacks, then this golf-themed gift basket is for them, including your Father-in-Law!
Place your order today!