Pugh's Flowers
Here to Help Decorate Your Memphis Home For Halloween
Pugh's Flowers has four flower shops throughout Memphis, Tennessee and a website, offering a wide range of flowers, plants, and curated gifts for delivery throughout the Memphis area as well across the country through our partnership with a nationwide network of florists that share our values. Enjoy our floral designs for all occasions, events, and special days, including custom floral services for gifts, decor, and weddings. Now into the fall season, it's time to think about decorating for Halloween and then Thanksgiving, which soon follows.
Let's get decorating for Halloween!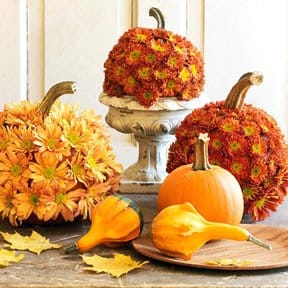 Pumpkins
As a symbol of Fall and especially of Halloween, the pumpkin is a great place to start your Halloween decorating. You can use a real pumpkin that's been cleaned out or opt for a ceramic pumpkin. Both make greater "containers" to display fall flowers and accents.
What's great is you can go with the traditional orange or use white pumpkins. You can also spray paint the pumpkin in other festive fall colors to add more color to your Halloween decor. The above picture also shows a great idea, which is to glue flowers on the outside of a pumpkin to add texture and interest.

Plants
Don't forget that you can also enhance your Halloween decor with plants. Many seasonal plant like the Croton shown above offer a colorful display that coordinates nicely with your fall color palate. This is also a nice option if you want to decorate your office for Halloween because these long-lasting plants can hang around through Thanksgiving and longer.

Unique Containers
There are so many beautiful flower choices and combinations that already create a beautiful look for your home. Another idea that elevates this natural beauty is to use a unique container. For example, the above picture uses a pitcher, which also can be used later on for decoration. You can use one of our containers or even bring us some great finds or family heirlooms that we can use to create a custom Halloween bouquet or fall centerpiece.