Our Memphis Flower Shop Features Talented Floral Designers
Pugh's Flowers has four flower shops throughout Memphis, Tennessee. Our florist locations and website are full of of flowers, plants, and curated gifts for delivery. We also specialize in event flowers, including seasonal parties, weddings, and other celebrations of all sizes, which are created by our talented team of floral designers.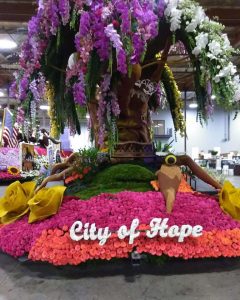 We are proud of what each of our floral designers can do and enjoy sharing their accomplishments with you. Recently, Angela Brown, a Certified Floral Designer (CFD) who serves as Manager for our Poplar and Southaven locations and has been a part of Pugh's for 14 years, was asked by the Phoenix Decorating Company of Irwindale, California, to participate as a floral designer in this year's Tournament of Roses Parade.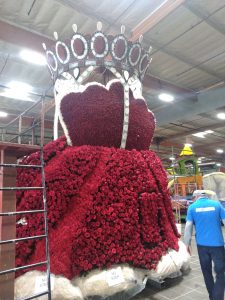 Held every year in Pasadena, California, the Tournament of Roses Parade is a stunning event that features unique floats all made from flowers, plants, as well as floral and greenery accents.
The Phoenix Decorating Company is the largest floral design firm in the parade. This year, they had 21 floats that were featured in the Rose Parade.
Angela got involved through her work with the American Institute of Floral Designers (AIFD). During her time testing and training with AIFD, she was asked to participate, and was honored, to take part in such a prestigious opportunity.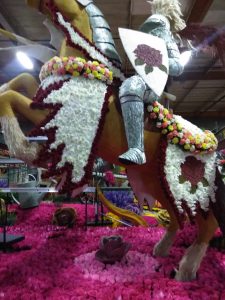 In describing what goes into creating the floats for the Tournament of Roses, Angela noted that the process starts in February when all the floats are designed and then built throughout the year. Next, dried products start being applied to the floats in November. Then, the rest of the work gets done throughout December.
Angela added, "Each float has a crew chief, a couple of floral designers, and hundreds of volunteers. As a floral designer, I started on prep work on December 27th. Then, flowers are added, beginning December 29th and 30th.
All the floats had to be completely finished before judging started on December 31st at 10:00 a.m. We worked long days, including 23 straight hours on the final day before judging."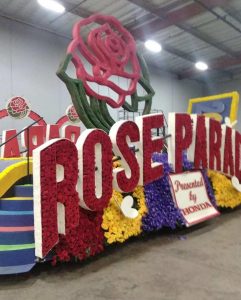 Angela worked on the floats for the Scan Foundation, the City of Hope, and the Queen's float. When asked what the experience was like, Angela explained, "It was the hardest I've ever worked in my whole life, but it was also the most incredible experience. I met some great people from all over the country and made new friends."
We are so proud of Angela's work and the opportunity she had to put her talent to work and represent Pugh's on the world stage!