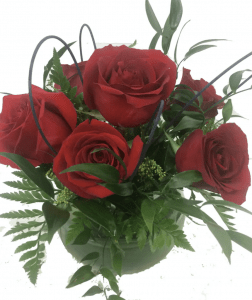 June is National Rose Month. It's the perfect month to celebrate roses. They are at the their peak. Plus, there are so many celebrations in June: graduation, weddings, birthdays, and more.
Roses come in many colors and provide a way to express certain feelings — from yellow for friendship to red for romance to pink for kindness and affection.
We have roses for every occasion, every preference, and every budget. You can choose the quantity, with as little as one up to the dozens or even a bowl with 100 roses.
Our traditional rose displays also include baby's breath and greenery accents.
You also have a choice when it comes to rose color. We have traditional colors like red, pink, and yellow as well as more unique hues like lavender and orange.
Check with us when ordering to see what colors are available as we are trying to re-stock as quickly as possible.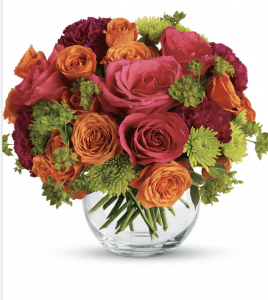 Other Rose Options
We also have some special rose arrangements with a mixture of flower varieties and colors.
If you are sending a gift for a birthday, you might want to consider one of our gift packages that include a rose arrangement and something delicious like a pound cake from one of our favorite places here in Memphis.
Rose Sale
Our rose sale includes $20 off of one-dozen roses and $40 off of two-dozen roses. This is for local delivery area only.
Order and Delivery
Call or use our website to place your order for roses. You still have two weeks to celebrate National Rose Month! We offer curbside pickup and no-contact delivery.