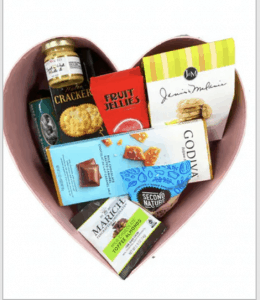 This October 24th is Make a Difference Day. Large or small, every effort to create change can lead to a positive difference in each other's lives, the community, and the world as a whole. From a neighbor or colleague to a teacher to a frontline worker, so many are working hard to make a difference.
This is an ideal time to show others you appreciate what they have done with you, your child, and those around you. Our Memphis flower and gift shop and website offer many ways to show your appreciation. Here are some gift ideas you can pick up in our store or order by phone and online for local contactless Memphis delivery.
Goodies, Gift Baskets, and Gift Packages
Let's start with all the great gifts we have to show your appreciation. Our gift baskets and packages include a mix of gourmet food, and locally curated products like homemade pound cakes. Choose from a wide range of packages that can include flowers, plants, coffee mugs, and balloons.
These goodies come in many different sizes and styles, which provides you with the choice to match your recipient's preferences and budget.
Fall Flowers and Plants
Flowers are also a beautiful way to show you value others' contributions to positive change. A good place to start is with our fall flower collection, which is filled with seasonal items. Choose from traditional symbols like a ceramic pumpkin and bright sunflowers to new fresh floral designs that incorporate untraditional colors like fuchsia and purple.
We also have fall plants like a colorful kalanchoe plant in a fall-themed container or a croton with fall-hued leaves. There are many other fall plants or greenery accents that also make nice gifts for Make a Difference Day that are long-lasting.
Many of our fall flowers and plants make great centerpieces for the fall table.
Other Gift Ideas
Of course, we have other floral designs available across our other collections as well as orchids and other blooming plants. You can also opt to use our custom floral design services for a custom bouquet, custom centerpiece, or custom flower arrangement that offers something exclusive for your recipient. Call and make an appointment today!
Order Now!
Stop by our Memphis flower shop, call us, or use our online ordering system found on our flower shop website. You can pick up your item at our Memphis florist location or you can request contactless delivery for the local Memphis area.