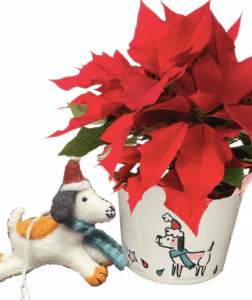 Poinsettia Day is coming up later this week on Saturday, December 12th. Every year, it's held on this date, even becoming a nationally recognized special day in 2002 when Congress declared it as one.
The day is designed to recognize the beauty and special qualities of the poinsettia as well as to call attention to the symbolism it reflects about the holiday season. In the past, the poinsettia has also been used for many other things, including for its dye properties, especially the ever-popular red poinsettia.
However, there are other poinsettia colors, including white. Did you know that there are actually over 100 varieties with many other colors to choose from? It's a versatile perennial that can continue bringing blooms for many years with just a little maintenance and care.
Poinsettia plants provide a colorful and festive way to decorate your home for the holidays. Plus, they also make great gifts for others in your life, including friends, family members, neighbors, teachers, colleagues, clients, and service personnel.
Our Memphis flower shop offers a convenient place to get fresh poinsettia plants in red or white as well as in single or double stemmed versions. We also have some festive containers for our poinsettia plants, including baskets and holiday ceramic containers. Just order online or by phone and we can use contact delivery to get these Christmas plants to you or your recipients.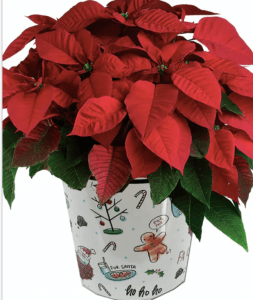 Beyond decorating and gifting poinsettia plants this Poinsettia Day, you can also do some other fun activities with your family to make the day part of your overall holiday events. This year, it may help to add another day to do special things together after such a tough time.
Depending on your location and how much time you have, you might consider visiting a botanical garden or drive-through light display that feature poinsettia plants among the decor. Or, you could get crafty and make some poinsettia-themed items like wall art, Christmas tree ornaments, and more. If you are good with knitting, you could even make a poinsettia-inspired sweater, hat, or scarf. Even the kids could join in.
The craft activities could extend to the kitchen where you could whip up some sugar cookies with poinsettia details made from icing. You are only limited by your own imagination! This is the time to spend more time together making things and enjoying these special moments.
Many of your crafty creations could also be turned into great gifts or just enhance your overall Christmas decor!