Houseplant Appreciation Day is Saturday, January 10th. The day was created to help bring awareness to the multiple benefits of green plants, indoor plants, and blooming plants.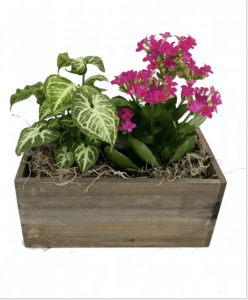 Some plants can purify the air while others may even help you sleep better. Many other plants have medicinal purposes. Overall, all these green wonders of nature provide us with more oxygen and surround us with a beautiful, soothing ambiance.
There is so many reasons to celebrate plants and have more of them in our lives. And, since they provide so many benefits, they also make a thoughtful gift. Your recipients will not only enjoy the plants, but they will also receive those health benefits that are more important than ever.
Our Memphis flower shop is also a garden center, offering a wide range of green plants, blooming plants, and other greenery from nature. You can enjoy them individually or as part of a container garden or basket garden. This gives you an opportunity to add a plant to every room with different colors and shapes to complement your existing decor.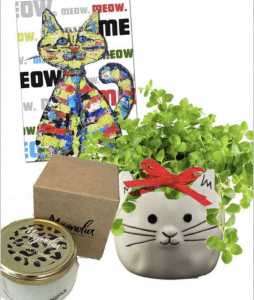 Through our Memphis flower shop and florist website, we also have a number of value-added plant-themed packages. We are excited to introduce even more package options that feature plants. These packages are ideal for everything from birthdays and anniversaries to congratulations, get well, and just because.
One of our newest additions is The Cat's Meow Package. This gift is perfect for the feline enthusiast in your life. There is a ceramic cat planter, a soy candle, and card made by local artist, Debbie Crawford, and sold exclusively by Pugh's Flowers.
If cats are not your recipient's thing, you can choose from other packages that feature a cactus, soy candle, and socially distanced hug. Other plant packages include a flowering azalea plant with a birthday balloon and spa products.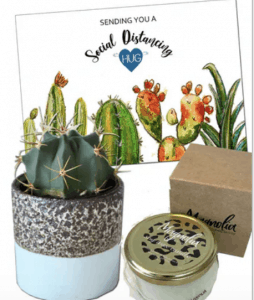 Another option to bring more plants into your life and those around you is our Plant of the Day promotion. We have a large variety  of eight-inch (in diameter) green plants.  Plant varieties may vary, depending on when you order. Some of the options may include peace lily, palm, dresina, monstera, or schefflera. All plants are delivered in a wicker basket with a bow.  Let our designer's choose which plant looks best today! If you need an exact type of plant, then please give us a call at 901-363-6744.