2021 is here, finally! It's a new year that is fresh and full of promise for positive things to come. While there is still uncertainty and challenges, a new year provides a new outlook and perspective that we could all benefit from — as small business owners and residents here in Memphis!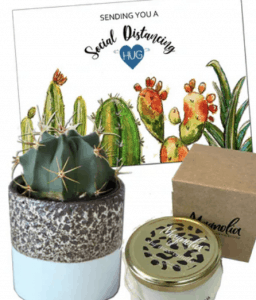 It's a time to freshen your home and start anew with resolutions to do more for others. Starting in January, it's a good time to start a calendar with special occasions. Enter them all in your digital calendar so you can get reminders a few day's ahead. That way, you'll never forget a birthday or anniversary!
We're here to help you start the year with this fresh and bright perspective by delivering fresh flowers, unique floral designs, and gift packages for birthdays and other celebratory events. You can even send a just-because gift if you know a friend or colleague could use some cheering up. These uplifting gift ideas are intended to put a smile on the face of your recipients.
Our floral design team have spent a lot of time, putting together new floral designs to share for 2021 as well as flower and gift packages that provide the best value and offer innovative products, many of which come from small business partners right here in Memphis.
If you have someone in your life that loves pampering, think about some of our spa gift packages that include a stunning and fresh floral bouquet along with some spa, beauty, or fragrance products. Other gift packages include locally sourced soy candles in a variety of scents.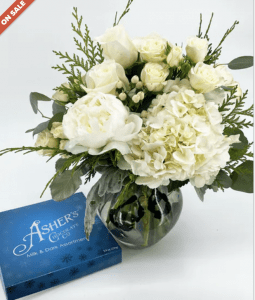 For those who love delicious treats, we also have gift packages that include Memphis-made poundcake or chocolates. There are also comforting gift sets that include a socially distanced hug or cuddly stuffed animal. Ask us about adding balloons or a personal greeting cards to accompany your sweet gift.
Even if you don't opt for one of our gift packages, our Memphis flower shop and website, you can consider our stunning floral bouquets and arrangements in various sizes, colors, and styles.
We even offer peonies that provide a sublime display in shades of white and pink. On their way are tulips, hydrangea, roses, and more that will help you enjoy the rest of winter and get you to the spring time!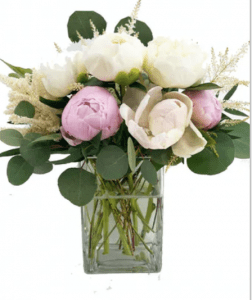 Our Memphis flower shop is here for you! Call or use our website to place your order today for local Memphis contactless delivery. We are also getting ready for Valentine's Day, which is just around the corner!