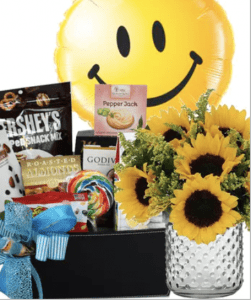 Having some type of celebration to look forward to and participate in is always a mood lifter. And, when we can celebrate someone else and give them a thoughtful gift, it feels even better because you see their smile and know you have added to their happiness.
That's what birthdays are all about. Now that a new month has arrived, March is sure to be full of birthdays with friends, family members, colleagues, and others in your life to celebrate. Here, in Memphis, we are here to help you do that from our Memphis flower and gift shop as well as through our website.
We are so excited to share our birthday collection with you because it is packed with new floral designs and unique gift ideas to celebrate every March birthday and find something special for each one.  There are funny and cute floral designs like a sweet pup made from carnations to elegant floral designs in tall vases to new floral gift packages and standout containers and vases.
Our birthday gift collection at our Memphis flower shop also includes new birthday balloons, cards, and curated gifts from local Memphis small business partners. This provides a way to further personalize your birthday gifts, including some new spring-themed floral and gift designs.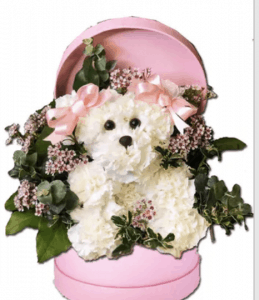 Our birthday packages offer extra value and will be sure to amaze your birthday recipient. For example, our Happy Day Gourmet and Bouquet includes a happy face balloon, a vase filled with sunflowers, and a gift package with gourmet sweets, nuts, snacks, and savory treats. Other packages contain delicious items from local Memphis small business like bakeries, candle makers, and more.
Another standout birthday gift idea is the Let it Shine Viizzii Vase, which provides an interactive experience between you and your recipient. The viizzii™ vase lets you change your custom message, instantly and endlessly. It arrives with free spirit garden roses.
The vase has instructions on how to use preset sentiments, such as Happy Birthday and others. There is a 20-hour battery life and three speed settings. Please be sure to put in the customer note field which of the preset sentiments you would like for us to use on the vase.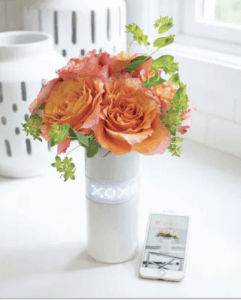 When you order online or by phone, you will be offered "No Contact Delivery" and "Curbside Pickup" for local deliveries to help ensure the health and safety of our community. Let us know what you prefer.