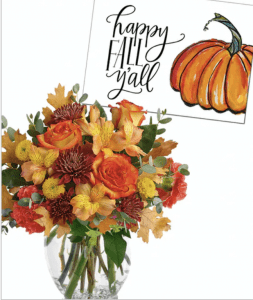 Fall officially begins September 22nd, but we couldn't wait that long to roll out our Fall Flower, Plant, and Gift collection! You can enjoy it by coming into our Memphis flower shop as well as visiting our website.
This year, we have added even more new products to one of our most favorite times of the year here in Memphis. We are ready for fall devoting, pumpkins, floral decor, new package deals, and more.
There are many of your fall favorites, including a wide selection of floral designs with sunflowers. These fall favorite florals have been added to numerous floral arrangements we have in this year's fall collection. They add warmth and sunshine as the temperatures change.
We have also added some unique floral designs that go beyond the traditional fall colors of yellow, orange, and brown. Be sure to check out our new bouquet entitled, "Fall for Mauve," proving that all colors can fit with the fall feel. Other arrangements include hot pink gerbera daisies as a bold accent.
We've also added many fall centerpieces that you can add to your table and instantly update a room for the fall season. Many of these fall centerpieces are available in rustic wood boxes as well as glass vases. The fall centerpieces are also an excellent gift as they help those around you quickly get their house ready for the fall season and upcoming fall holidays.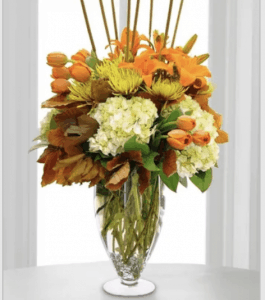 You can also enjoy new fall packages, such as our Garden Joy Abounds Package. It comes with a bouquet of sunflowers, lilies, roses and other fall flowers along with a s'mores kit, which makes a  delicious treat for two. New handmade fall-themed greeting cards are also now available!
We will continue to add to our fall collection as all of the fall holidays get closer, including Halloween and Thanksgiving. Until then, enjoy some of the many fall floral designs that are available in multiple sizes and ideal for all occasions, including upcoming fall birthdays.
We'd love to see you and show off our fall collection in-person at our Memphis flower shop so please stop by. Of course, we also take orders by phone and through our website. Orders can be picked up at our Memphis florist location or you can opt for contactless delivery throughout the Memphis area. Let's get started on celebrating the fall season together!@