Pugh's Flowers
October is recognized as Breast Cancer Awareness Month. Multiple studies have reflected staggering statistics regarding the far reaching effects of Breast Cancer. These important studies indicate that Breast Cancer claims the lives of approximately 42,000 women each year with 255,000 being diagnosed in the United States. This awful cancer does not discriminate and is also diagnosed in approximately 1% of the male population.
Pugh's Flowers has on staff some of the best Floral Designers in the floral industry.  Our talented designers always carefully consider every detail while creating thoughtful and meaningful flower arrangements. If you have a loved one or friend suffering from Breast Cancer, October is a wonderful month to show respect and kindness by giving them a loving flower arrangement from Pugh's Flowers.
When you send high quality Pugh's Flowers bouquets or arrangements it is always a very special thing to do. Below are some additional ways to help promote Breast Cancer Awareness Month:
Proudly wear a pink ribbon everyday during October. And give pink ribbons to others to wear.
There are some women that like to bedazzle bras they have collected and auction them off at a fundraising event.
You can always invite family and friends to a fashion show you organized. All pink clothing and outrageous hats and accessories. Share facts about Breast Cancer during the event.
Have a contest featuring Pink Pumpkins asking people to drop money in a collection jar next to their favorite pumpkin.
If acceptable with your office policy, perhaps organize a lunch and learn with a guest speaker to talk about early detection, preventative measures and recovery etc.
Walks and runs are always popular. Create some spirit within you office comrades.
Perhaps just share educational facts from expert organizations like the National Breast Cancer Foundation, Inc. and the American Cancer Society. Some of their statistics are truly eye opening.

Breast cancer is the most common cancer for women worldwide
1 in 8 women receive a breast cancer diagnosis
On average, every 2 minutes a female is diagnosed with breast cancer
One woman will die of breast cancer every 13 minutes
Alcohol use increases the risk of breast cancer
Over 3.3 million breast cancer survivors are alive in the U.S. today
An estimated 2,470 men will be diagnosed with breast cancer
1 in 1,000 men will receive a breast cancer diagnosis
Breast cancer occurrence and death rates generally increase with age
Only 5-10% of individuals diagnosed have a family history of breast cancer
The professional floral designers at Pugh's Flowers are ready and excited to help you find a beautiful and thoughtful flower arrangement or bouquet for someone you know that has been affected by Breast Cancer.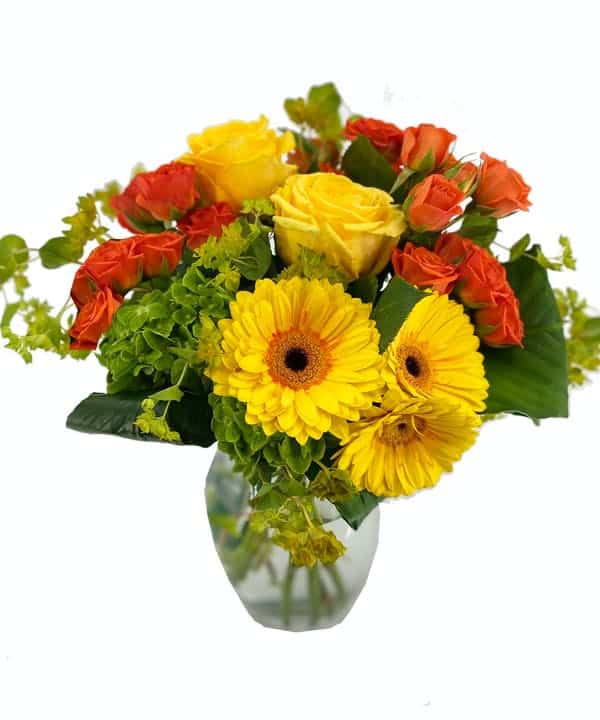 Citrus Bliss
Florist In Memphis Tennessee
Voted Best Florist In Memphis
Pugh's Flowers is a third generation, family owned and operated floral design firm. We operate three floral design centers in the greater Memphis area, and operate a fourth flower shop in Southaven, Mississippi. Our delivery team is one of the very best in Tennessee. In fact, we own and operate a company called Lickety Split Courier. Through that firm, we are able to offer our local clients, same day or express flower delivery. We also provide nationwide same day delivery for any delivery outside of the state.
Pugh's Flowers was created and started in 1978, by Bill Pugh and a partner. Today, his three sons, Mark, Michael and Tim, run the flower shop and all related day to day operations. The Pugh's owns a number other businesses. Some related to the flower shop and others not. As mentioned earlier, they utilize their delivery service, Lickety Split Couriers, to handle all local same day and express deliveries. In addition to flowers, the brothers have found success with their commercial landscape firm, known as Pugh's Earthworks, and with their pest control firm, Rosie's Pest Control.
At Pugh's, we are extremely blessed to have built a professional, customer focused employee team. Any successful flower shop is built around the floral design team. We have one of the finest groups of flower designers anywhere in Tennessee. Our operations staff and sales staff are also top notch. They are customer focused, motivated and dedicated folks. Our delivery operation is second to none.
We create traditional, contemporary and very modern metropolitan floral designs. Each flower arrangement comes with our 100% customer satisfaction guarantee. We create everything from a traditional dozen red roses, to some of the most stunning fresh flower arrangements you have ever seen. We carry all of the areas favorite flower varieties. We have a great selection of Oriental, Stargazer and Asiatic Lilies.
We have the best Ecuadorian roses in town. Our gerbera daisies, tulips, carnations and full bloom hydrangea are absolutely gorgeous. Looking for something exotic. We carry beautiful fresh Protea and the prettiest Cymbidium and Dendrobium Orchids in Southaven. Our firm designs for all occasions, including weddings and corporate events. We are large enough to handle weddings and events of any size.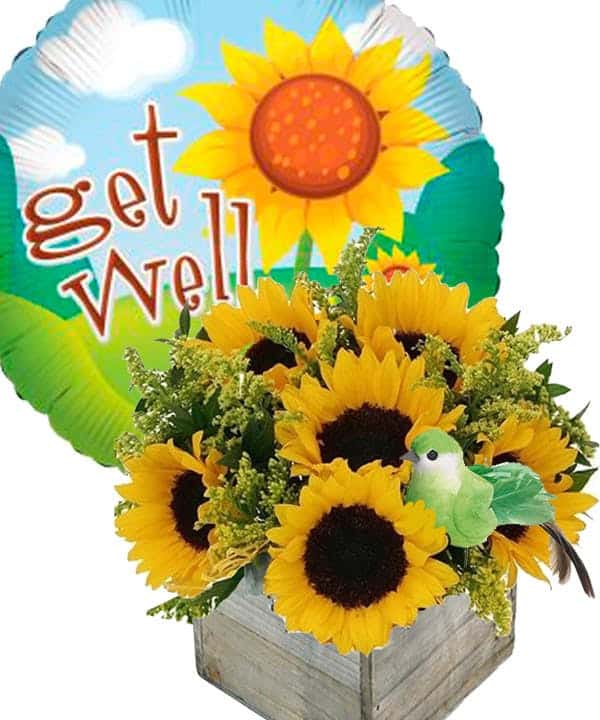 Feel Better Bird Bouquet