Pugh's Flowers
The holiday season is upon us with Thanksgiving in just two weeks.  From all of the Pugh's Flowers family, we would be delighted to have you shop with us in person or online and let us help you create a fresh, colorful and festive holiday atmosphere in your home with our elegant flowers and gifts. Our expert and professional floral designers have produced some of the most elegant holiday spirited floral products you will find.
The concept of Thanksgiving originated in 1621. History studies has taught us that the Pilgrim's first winter, after landing in America, was particularly cold and harsh.  They were only able to survive by the pure generosity of the Native Americans that shared food with them. To repay their new Native American benefactors, the Pilgrims held a three-day feast. The bounty they shared included dried fruits, boiled pumpkin, turkey, venison and other foods. A slightly different menu from what we are accustomed to but no doubt a delightful feast at that time.
Over the many years the theme of a celebration of harvest has continued to be a cherished event. We think of Thanksgiving as a time to give thanks for our foundation of this great Nation and for family and friends. It is also the official start of the holiday season and a special time of fellowship with those closest to us. After receiving encouragement from some people, President Lincoln declared Thanksgiving a nationwide holiday in 1863.
As many people will be traveling and or hosting the Thanksgiving Day meal, there are guidelines to contemplate according to the CDC.  Some of their modified guidelines from last year are:
Protect those not yet eligible for vaccination such as young children by getting yourself and other eligible people around them vaccinated.
Wear well-fitting masks over your nose and mouth if you are in public indoor settings if you are not fully vaccinated.

Even those who are fully vaccinated should wear a mask in public indoor settings in communities with substantial to high transmission.
Avoid crowded, poorly ventilated spaces.
If you are sick or have symptoms, do not host or attend a gathering.
Get tested if you have symptoms of COVID-19 or have a close contact with someone who has COVID-19.
If you are considering traveling for a holiday or event, visit CDC's travel page to help you decide what is best for you and your family. CDC still recommends delaying travel until you are fully vaccinated.
If you are not fully vaccinated and must travel, follow CDC's domestic traveler or international travel recommendations for unvaccinated people.
If you will be traveling in a group or family with unvaccinated people, choose safer travel options.
Everyone, even people who are fully vaccinated, is required to wear a mask on public transportation and follow international travel recommendations".
Pugh's Flowers offers the very best Thanksgiving flowers and gifts to enhance the holiday spirit in your home.
Fall Centerpiece – Having a dinner party or get together and want your table to have a lovely, seasonal centerpiece? This centerpiece is a long and low style and will be full of autumn-colored stems. This also makes a nice hostess gift!
Fall Table Piece – If you are looking to send a thoughtful, seasonal hostess gift, thank you gift or table decoration, this is a gorgeous option! Warm fall stems will be artistically arranged in a distressed wooden box style container that's reusable for so many things. We also include two taper candles. This one is only available in our local delivery areas.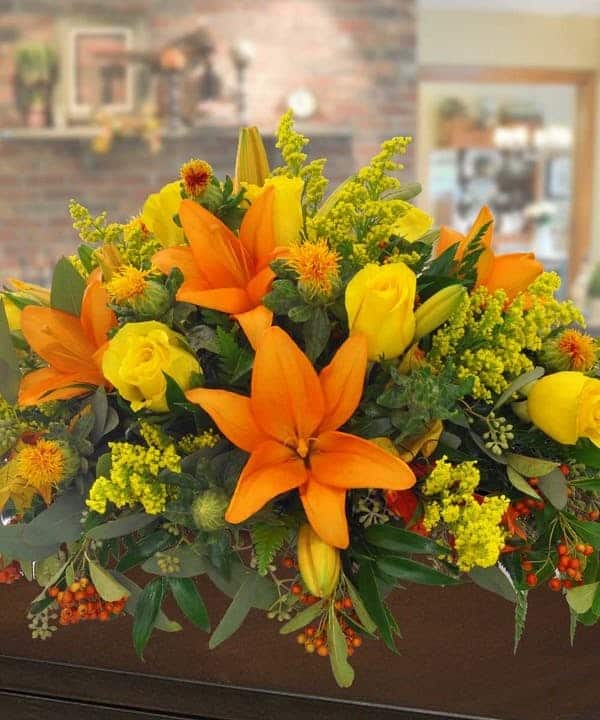 Fall Centerpiece
ABOUT THANKSGIVING FLOWERS & GIFTS
Thanksgiving Flowers & Gifts
FALL THEMED FLOWER ARRANGEMENTS, GORGEOUS HOLIDAY TABLE CENTERPIECES
Celebrate the beauty of the autumn season with Pugh's Flowers' stunning floral arrangements, seasonal plants, keepsake gift items, and delicious gourmet baskets. Complete your holiday dinner table with a magnificent Thanksgiving centerpiece or cornucopia, or send one to friends and family members to let them know you're thinking of them! Beautiful Thanksgiving centerpieces are available for same day delivery to Memphis, Germantown, Collierville, Southaven, Olive Branch, Hernando, Arlington and Eads, as well as anywhere in the USA, Canada, and overseas.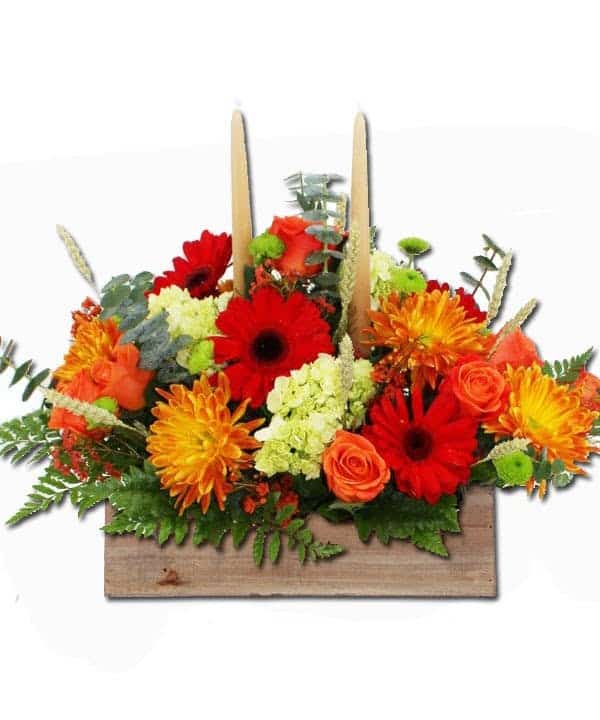 Fall Table Piece
Pugh's Flowers is a family owned and operated floral design firm. We have more than 40 years of experience designing and delivering flowers in the Memphis and Bartlett Tennessee area. We first opened our doors back in 1976. Our company was started by our father, Bill Pugh. Today, the firm is run by two of Bill's three sons. Michael Pugh handles the administrative piece of the business, while brother Tim handles all of the operations duties. Brother Mark, runs the family's thriving landscape business. In addition to flowers and landscaping, the Pugh family also operates a third business called Rosie's Pest Control.
Pugh's Flowers operates four floral design centers in the greater Memphis metropolitan area. We employee a super talented group of designers and support personnel. Our design team is well known for their unique, artistic and creative floral designs. We offer a wide variety of fresh flowers and sell more roses than anyone in Memphis. If you haven't seen our roses, you are missing out. They come from Ecuador and have longer stems and larger blooms. They are absolutely gorgeous. Looking for something really unique? We carry all of the favorite flower varieties.
MAIN LOCATION
2435 Whitten Rd.
Memphis, TN 38133
(901) 405-6670