Voted Best Florist In Memphis, TN
The Saturday before Thanksgiving, Pugh's Flowers had the honor of decorating the Peabody Hotel in Memphis for the first time! We had never done a tree like this and were scrambling at the last minute to get ornaments and lights. Wholesale Christmas items are usually ordered in June, but our employees jumped at the challenge! The Peabody asked us to do a very traditional red, green and gold tree to complement their grand lobby.
We did the main 30-foot lobby tree, lobby fountain arrangement, spa tree, garland draping around the mezzanine, outside entrances and 2 other small trees. We couldn't start until the lobby bar closed at midnight…we started setting up at 11pm and worked until 7:30am. We had never assembled a tree like this before, but our landscape company joined in and put it all together! It was definitely a family affair and a labor of love, and we will be even more prepared for next year!
Pugh's Flowers offers same day flower delivery to all Shelby County Hospitals, Funeral Homes and Mortuaries. We also have a floral design center in Southaven, MS. We make daily deliveries in the Southaven Mississippi area as well. We invite you to do your shopping on our website. If you prefer, we also have four floral design centers available for you to come in and see our entire selection of flowers, plants and occasion themed gifts.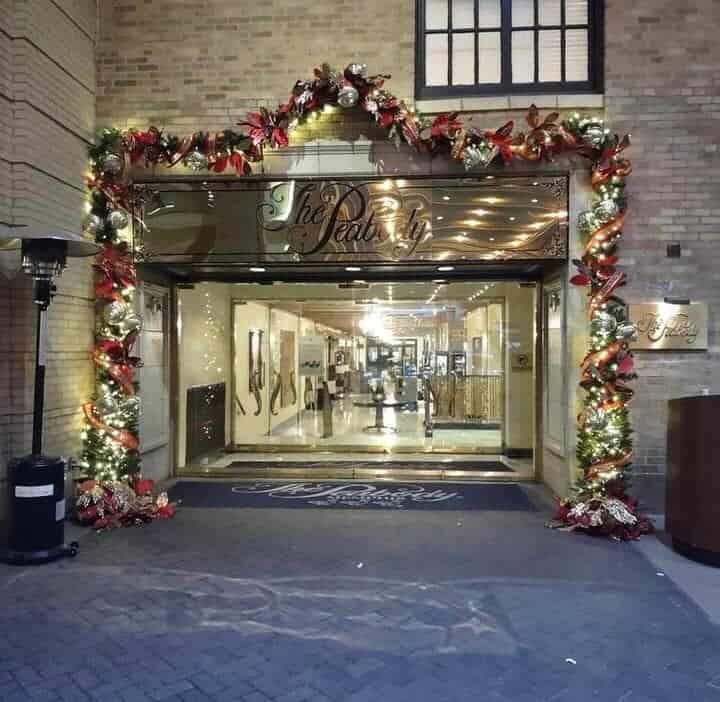 The all-star floral designers at Pugh's Flowers have expertly designed caring and eye-catching Christmas centerpieces to make your holiday dinner table extremely elegant. We invite you to visit Pugh's Flowers conveniently online or in person and see our fabulous Christmas Holiday centerpieces. We know at Pugh's Flowers that Christmas centerpieces are a nice addition to all holiday celebrations. A beautiful table centerpiece will add so much festive ambiance to any dinner table and delight your guests.
Decorating Christmas dinner tables has been a tradition dating back for many centuries. Pugh's Flowers designers always work diligently to help customers find the right centerpiece to fit any holiday table size, shape or theme. There are many historical reasons people used centerpieces ranging from displaying wealth, power, prosperity and to ensure good fortune for loved ones. Regardless of what your reason may be to display a centerpiece, the Pugh's Flowers team is prepared and eager to assist.
The various flowers, decorations and evergreen that make up most centerpieces have symbolic meaning. For example, the evergreen, which is so common as a decoration, represents eternal life for those of the Christian faith. Evergreens are hardy and grow year-round even in the dead of winter. This representation is associated with the strength of Jesus and all that he endured.
Often Christmas centerpieces are adorned with colorful decorations as well as evergreen and candles. The traditional selection of red, green and gold decorations is purposeful also. Gold is one of the first colors associated with Christmas. It symbolizes royalty as it was one of the three gifts of the Wise Men. Red symbolizes the blood of Jesus shed during crucifixion.
When you shop for that perfect Christmas centerpiece to add holiday spirit and beauty to your holiday dinner table, please be sure to visit Pugh's Flowers conveniently online or in person to see the best centerpieces in town. Your family and friends will be in awe as they gather with at your table for that wonderful holiday meal.  To give you an idea of some of our wonderful selections, below are a few examples of our stunning selections which show the quality and beauty of our Christmas centerpieces.
HOLIDAY BOXED CENTERPIECE – Reds, greens, and white stems make a gorgeous holiday centerpiece. This one comes in a rustic style box container.  Your table will be perfect for the holiday gathering.
GLORIOUS WINTER CENTERPIECE – If you are looking for a stunning gift, look no further. This centerpiece with its high-end orchids will show off any holiday table and bring sophistication to any home. This one has lots of wow factor!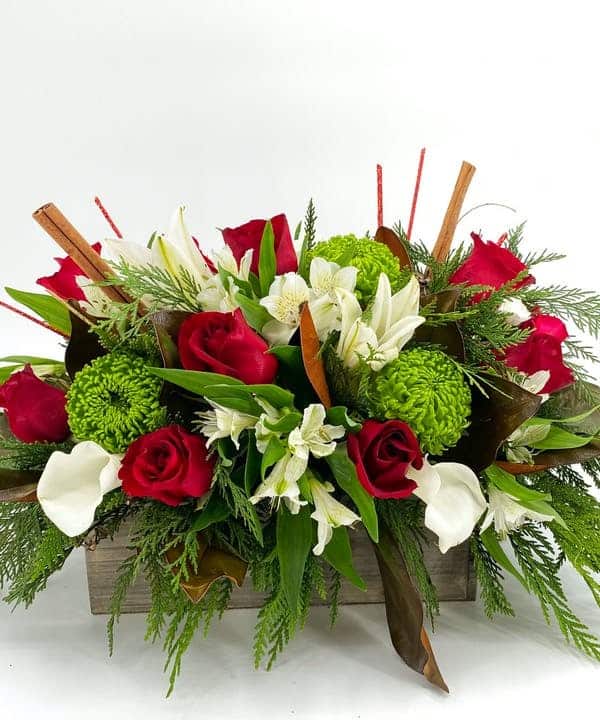 Holiday Boxed Centerpiece
Pugh's Flowers
Main Location
2435 Whitten Rd.
Memphis, TN 38133
(901) 405-6670