Pugh's Flowers has great Valentine's Flower Bouquets
Giving flowers for Valentine's Day has dated back for centuries. That is to say, this tradition actually began in the 1700s. Pugh's Flowers has a nice selection of Valentine's Flower Bouquets. There are numerous options for flower varieties. Certainly, Roses and Chocolate are not the only favorites. For instance, here are some additional choices of flowers that are popular for Valentine's Day.
Lilies
 These lovely flowers have a great fragrance that most people love. Subsequently, there are numerous varieties of Lilies.
Candidum or Madonna Lilie is pure white and one of the most popular. They are a difficult plant for growers as the soil has to be neutral to alkaline.
Martagon referred to as Turk's cap lilies, have purple to pink petals. The plant appears to be very delicate but is actually quite hardy.
Regale lilies have purple to pink petals with a slight amount of yellow on the inside of the flower. Similarly, they are one of the easiest lilies to grow.
Album is another of the white variety. In addition, this flower has some yellowish green on the petals.
Pink Perfection Group is a purple and pink trumpet lily. Similarly, to the Regale variety, it is easy to grow.
Lankon is one of the favorite varieties due to its unique coloring. In addition, the white petals are spattered with a deep purple.
Tulips
A great choice for a bouquet, Tulips are very fresh and continue to grow after they are cut. That is to say, this makes them perfect for a vase. You have to rotate the arrangement as the flowers tend to grow toward the light. Similarly, to other flower groups, there are several different types of Tulips.
Multiheaded has 2-5 flower heads per stem. Even though they are shorter than most other varieties, they still look great in bouquets. One of the favorite colors is the blood red "Estatic".
Parrot group Tulips have a feathery and ruffled appearance. Consequently, they inherited the name of Parrot group. Some of the colors are nicknamed "Black Parrot", "James Last" and "Negrita Parrot".
Lily Flowered Group has mauve colored petals that have a white edge. In addition, they have longer petals than other types of Tulips. Their petals often curve outwards.
Viridiflora, the "China Town" variety, is a soft pink with green streaks.
SOPHISTICATED LOVE
Show your love in a most sophisticated way with this decadent red and pink bouquet. In addition, these are delivered in a breathtaking vase of European glass with ombre metallic finish.
Sophisticated Love
BEAR HUG PACKAGE
Send Pugh's adorable little bear with enchanting roses, and someone special will think you are beary sweet! Bear color will vary according to availability. A pint-sized jar of chocolate chip cookies will add that sweet touch. In addition, we will also add a delightful balloon for a very festive presentation!
ABOUT VALENTINE'S DAY FLOWERS & GIFTS
Valentine's Day Themed Flower Arrangements
GORGEOUS FULL BLOOM HYDRANGEA, STARGAZER LILIES, GORGEOUS GERBERA DAISIES
This Valentine's Day, we invite you to shop our Valentine's floral collection. We offer the best selection of fresh Valentine's themed flowers in Memphis. Shop online or visit any of our 4 floral design centers located around the greater Memphis, Tennessee metro area. Only the products shown here are available for Valentine's Day deliveries.
We Offer Nationwide Same Day Valentine's Flower Delivery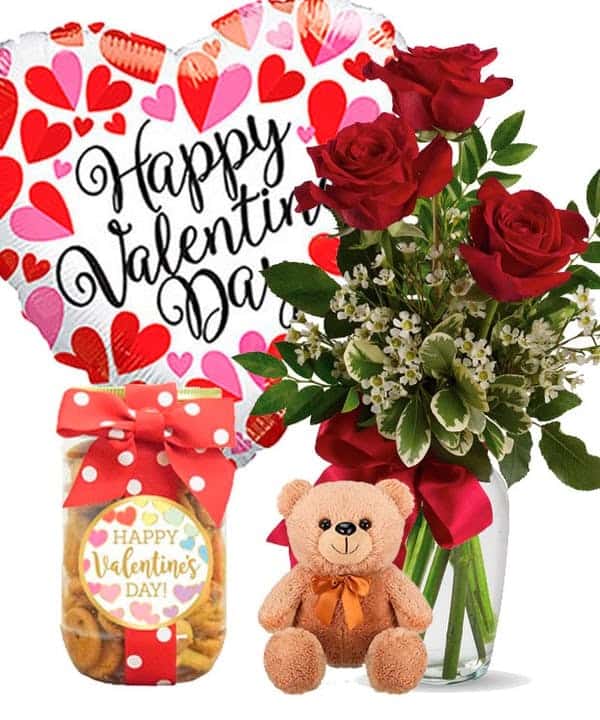 Bear Hug Package
MAIN LOCATION
2435 Whitten Rd.
Memphis, TN 38133
(901) 405-6670