Pugh's Flowers is ranked by Teleflora as one of the nation's 100 largest floral order senders from over 25,000 member shops.
The Pugh's Flowers team knows that Mother's Day Flowers are arguably one of the top selling flower purchase times of the year. We strongly and respectfully encourage customers to start shopping now. Our Floral Designers have been working many hours creating elegant, fresh and heartfelt flower arrangements and bouquets for Mother's Day.
The best way to honor mom on Mother's Day, is by giving her a special Pugh's Flowers Bouquet. After all, she spent many years of dedicated commitment to our success and happiness.  Let her know you have not forgotten her devotion. There is nothing better than watching mom's face when she receives a gorgeous bouquet. If you are still looking for fun activities to do with Mom on this special day, there are hundreds of things to do. Whatever you choose it will not matter to her as long as she is with you. Below is a short list to help you.
Activities
Air BNB – Pick a favorite getaway destination and take mom for a short trip. Make it a fun adventure for all.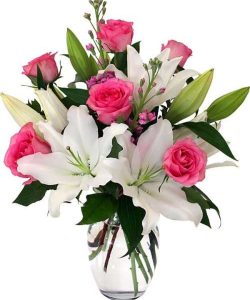 Pamper Mom – Book a spa day with your mom. There are many package deals for Mother's Day. This is a great way to spend time with your special Mom and both of you will feel relaxed and rejuvenated.
Create a Photo Collage – You probably have many photos in boxes. Go through them and pick out the ones that you think your mom would be the most touched by viewing again. Then go to the arts and crafts store and purchase a nice collage photo album. The look on her face when she opens your present will be priceless.
Gardening – This is a great outdoor or even indoor activity for some vegetables and plants. It is a great way to spend quality with your mom and nature. Perhaps if she enjoys cooking you can start growing some herbs.
Cook Dinner – Over the years you have learned what your mom's favorite meals are. She would be delighted to have you prepare that special "Breakfast in Bed", Lunch or Dinner.
There are too many activities to list and most anything you plan to do with mom will make her happy. As you shop for a beautiful flower bouquet, your mom may have some favorite varieties of flowers that you are aware of. Below are some tips for a few classic favorite Mother's Day Flowers:
Flowers
Daisies – If your mother is one of those easy going, lighthearted, friendly and enjoys life's simple things kind of person, Daisies represent those traits of sweetness and innocence. White Daisies and Mixed are perfect. Add a thoughtful Mother's Day Card and you are good to go.
Tulips – These are awesome Springtime flowers. There are so many colors and varieties that look lovely in an arrangement or bouquet. Not only are they pretty but they have a long-lasting fresh scent to make mom's house smell great.
Carnations – For many years the Carnation has been a favorite and an official Mother's Day Flower.  Meaning is given to the red or pink carnation in that these reflect a mother who is still living. For mothers that are no longer with us, the white Carnation is appropriate.
Roses – It goes without saying that everyone loves Roses. Pretty much any color accept Red is great for Mother's Day. Only because Red Roses are usually reserved to symbolize Romantic love.  Yellow and Orange Roses typically are purchased to express your feelings of gratitude and joy for all that mom has done for you.
Lisianthus – If your mom is a fan of flowers that look delicate, elegant, and fascinating, these flowers are perfect. Lisianthus flowers are available in multiple colors and make beautiful flower bouquets.
Lilies – Lilies always put a smile on mom's face. There are so very many colors to choose from. Their gorgeous long petals range from the white lily to the orange tiger lily and countless colors in between.
Anthurium – The good thing about this plant is it is a lasting gift that mom can enjoy for quite some time even years in some cases.
Orchids – Orchids are a wonderful and traditional exotic flower. Mom will love placing these in her home as a beautiful decorative flowering plant.
Hydrangeas – Blue is a common color for these but there are other colors available also. Because they are such a full and lush flower, they symbolize the abundance of love and support your mom has given you.
Gladiolus – When you want to convey the message that mom has always been a person of faithfulness, honor, and strength of character, Gladiolus are the exact flower to purchase. Mom will see your admiration and feel honored.
LOVE ME TENDER
The King of Rock and Roll got it right when he said, "Love Me Tender" and we have this beautiful arrangement of roses and lilies just right too! 6 lovely red roses and fragrant lilies arranged in a beautiful glass vase are simply stunning.
Pugh's Flowers Mother's Day Flowers
One really cool bonus service Pugh's Flowers offers our customers is online Q&A. Teleflora ranks Pugh's Flowers as one of the nation's 100 largest floral order senders from over 25,000 member shops. Our full-service florist has a full selection of fresh cut flowers, fruit and gourmet baskets, green houseplants and home accessories that are all available in store, via the web or by phone. Pugh's Flowers is open 7 days a week 24 hours a day by phone 888-901-6744 and via the World Wide Web. Below is and excerpt of our Q&A service.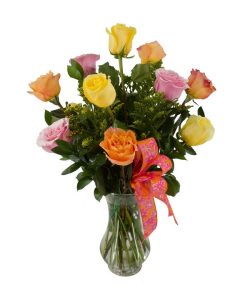 Can you keep track of recipients to whom I frequently send, so I don't have to retype addresses on each order?
The registered member feature is for you! Among many other benefits of creating an online account is your own personal address book. It takes only a minute to establish your own account at pughs.com, and it's FREE!
How can you provide such high quality and value in towns all across the United States?
At Pugh's Flowers, we have tracked all of our orders by computer over the past twelve years. During this time, we have been able to identify the best florists in each major market. They have become part of our preferred network of affiliate shops. We can count on them to provide top quality designs and farm fresh product at competitive prices.
Do you deliver on Sundays?
Yes, we have designers and drivers in place for Sunday deliveries.
Is there any special information needed to deliver an arrangement to a hospital?
For hospital deliveries, please make sure to include the name of the recipient, hospital and room number or ward. Your arrangement will be delivered to the floor nurse's station, as most hospitals do not allow florists into individual rooms.
What happens to my order when a florist attempts delivery, and the recipient is not at home?
If the recipient is not at their home when a delivery is attempted, the florist may choose to do one of the following: 1. Call the recipient ahead of time to make sure that they are going to be there or to schedule an appropriate time. 2. Leave a note on the door of the recipient's home asking them to call the florist and schedule an appropriate delivery time. 3. Leave the arrangement in a covered area of the home (porch or other entrance). 4. Leave the arrangement with a neighbor and place a message on the recipient's door referring them to the neighbor who accepted for them. If you do not wish for the delivering florist to use any of these procedures, please make sure that you indicate this in the "Special Instructions" box on your order form.
If a family has requested donations in lieu of, is it still ok to send flowers to the funeral?
Yes, by all means! Studies by experts in the field of grief have found that the absence of flowers at a funeral service has a very negative effect on the family members. Flowers have proven abilities to make people feel better, that is why the tradition of sending flowers to show respect came about so many years ago.
How will the recipient get her flowers home from the office?
Our vase arrangements are delivered in a no-spill box to make transporting the flowers home very easy!
How can I extend the life of my flower arrangement?
Add fresh water daily and keep out of direct sunlight or heat vents when possible.
How will I know if my arrangement has been successfully delivered?
For our local deliveries you will receive a confirmation phone call from the driver upon delivery. You will also receive an email notification upon delivery.
Mom's Favorite Roses
This arrangement is filled with the beautiful combination of long- stemmed pink, orange, and yellow roses and has a beautiful bow!
Pugh's Flowers offers amazing Mother's Day Flowers
2435 Whitten Rd.
Memphis, TN 38133
(901) 405-6670